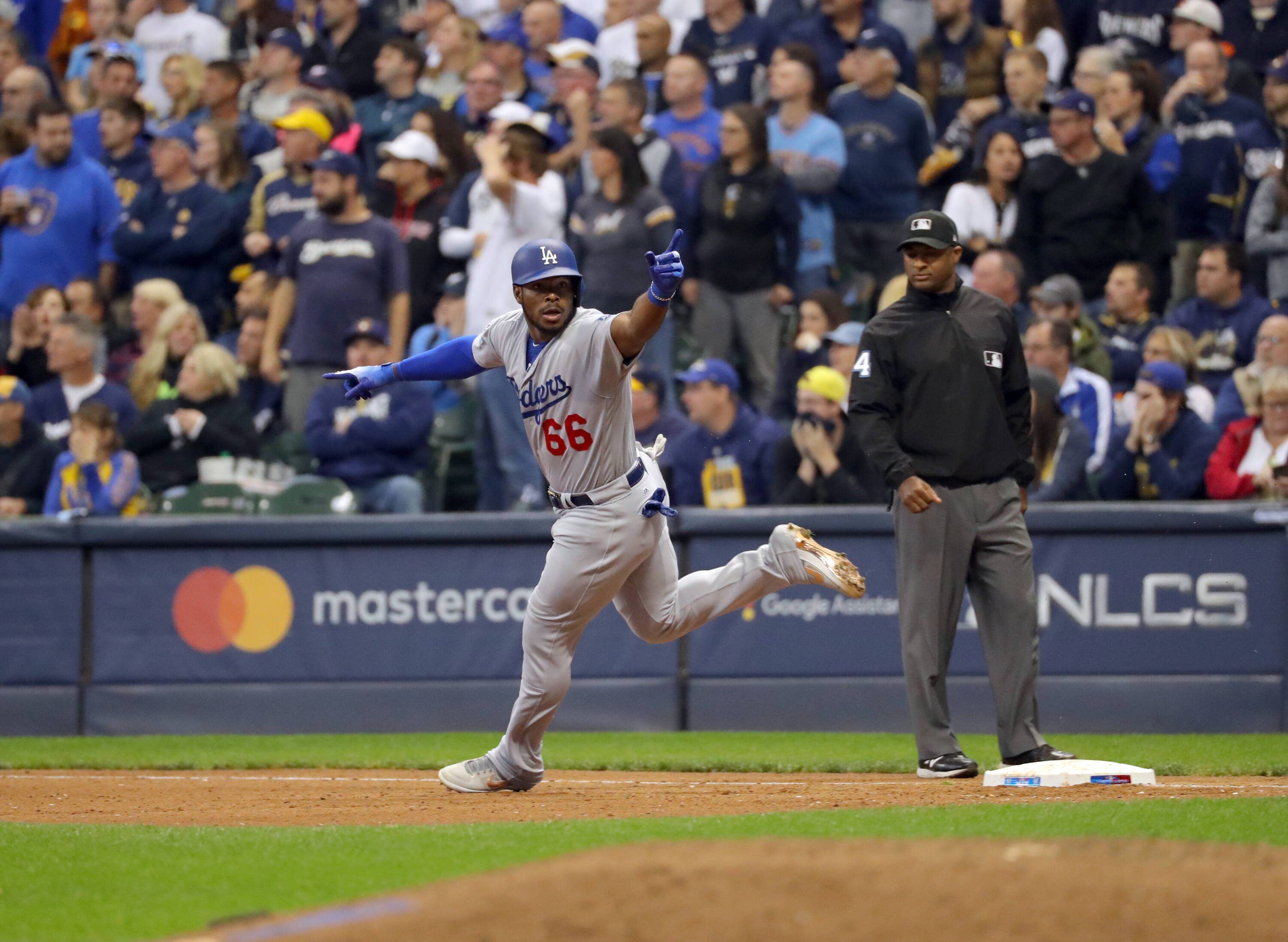 Former Dodgers outfielder Yasiel Puig would love to play for LA again in the future. Puig discussed his desire to be a Dodger again in a CBSLA Sports Central video at event for his Wild Horse Foundation.
"People keeping talking and texting me 'Hey, come back to Los Angeles.'. It's not about me, but we're going to do the best we can everyday now, in Korea, for this season and the next season, to come back to the United States and hope God gives me the opportunity one day to come back to the Dodgers."
Could @YasielPuig come back to the @Dodgers?? If he has his way, that's a yes!

We catch up with the fan favorite tonight at 5:45p on @CBSLA & 10:45p on #KCAL9 as he works in the local LA community to build "Puig's House" w/ his @WildHorseFDN @DodgersNation @LaDodgersTalk pic.twitter.com/8C9vlpidlc

— Sports Central LA (@SportsCentralLA) January 18, 2022
NBC Sports reported this last December that Puig signed a one-year, $1M contract with the Kiwoon Heroes. The Heroes are member of the Korean pro league (KBO). Puig hasn't played in the MLB since 2019. Puig played in the Mexican League last year and posted a .312 batting along with 12 home runs.
Puig burst onto the baseball scene in 2013 with a .925 OPS in 104 games played. He produced jaw dropping highlights, but his energetic style of play angered many baseball traditionalists. Especially Madison Bumgarner.
One could make the argument Puig was an early pioneer of the modern "make baseball fun" movement.
Across six seasons with the Dodgers, Puig slashed .270/.353/.479 and had an OPS+ OF 127. He was traded mid-season in 2018, along with Kyle Farmer, Matt Kemp, and Kyle Farmer, to the Reds in exchange for Jeter Downs, Homer Bailey, and Josiah Gray.
The Reds traded Puig the following season in a three-team deal that brought them pitcher Trevor Bauer.
The Wild Horse would love to return to his old stable in Los Angeles one day.
Dodgers: LA Announces Baseball Operations Staff Changes, Two New Assistant GMs