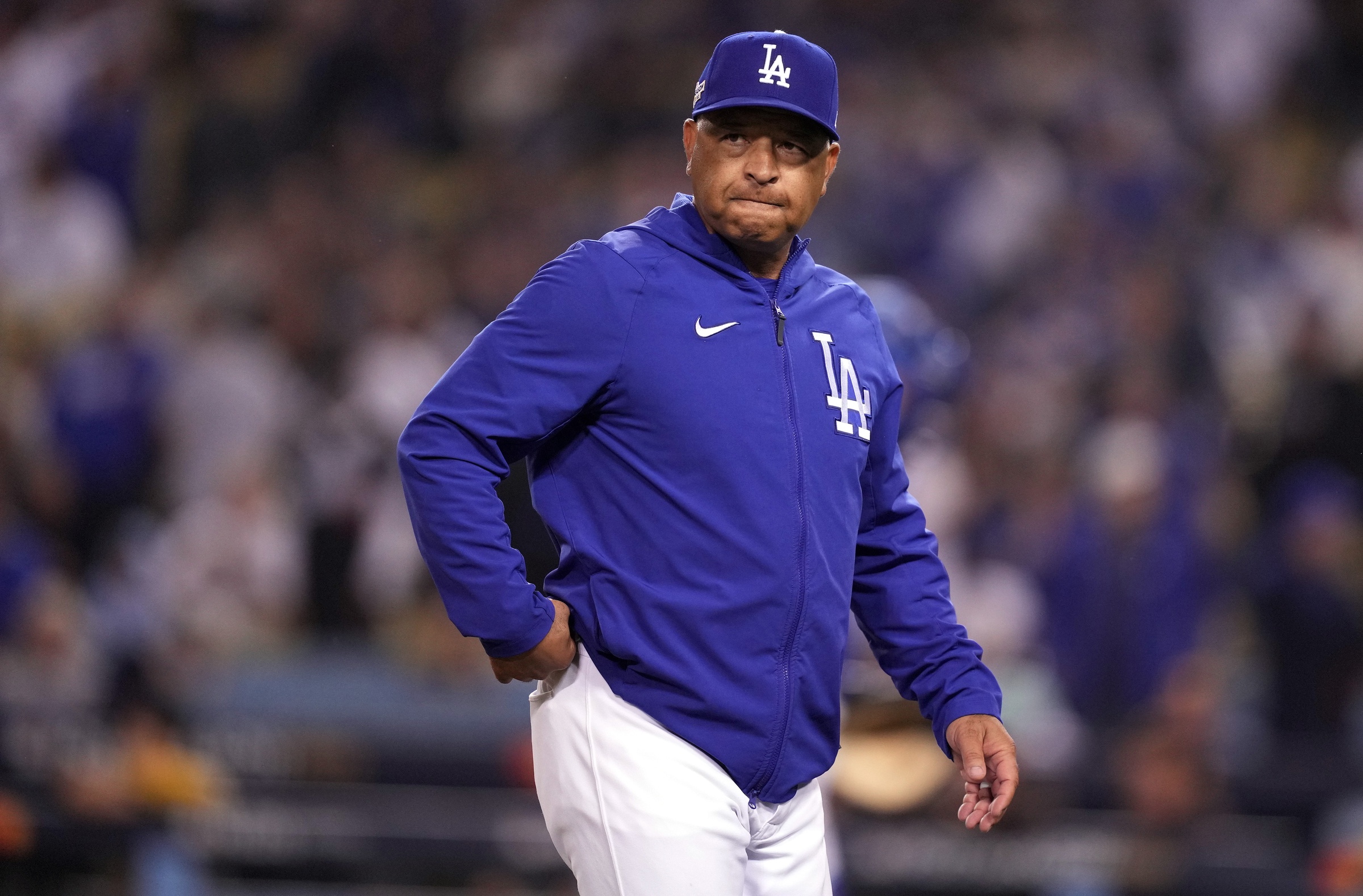 Dodgers Team News
Dodgers: Andrew Friedman Says No Staff Changes Coming in Wake of NLDS Debacle
When Dodgers general manager Brandon Gomes and president of baseball operations Andrew Friedman met with the media on Tuesday for their annual end-of-season press conference, one of the major topics of conversation was manager Dave Roberts. After L.A.'s stunning loss to the Padres in the NLDS, many fans and pundits are calling for Roberts to lose his job.
As Jack Harris reports in the Los Angeles Times, Friedman was asked if Roberts would be returning as manager next season.
"One hundred percent," he said.

The rest of the coaching staff likely will, as well.

"I don't anticipate [any changes] right now," he said.
That's the marquee quote, and one that isn't likely to please those who are calling for the manager's head. But Friedman is a deep thinker and is sometimes quite frank with the media, and he elaborated on his reasoning.
Asked if the Dodgers could benefit from a new voice leading the team, Friedman rejected the suggestion.

"I don't feel like that's what we need," Friedman said. "If we felt that a different voice was going to help us cash in on those situations with runners in scoring position — yeah, then maybe we would.

"There are those things that happen in the course of a game that I think is important to tease out — what part of it is baseball? What part of it is leaders?" he added. "I feel like Dave and his coaching staff did an incredible job during the regular season to lead this team to 111 wins. And I don't feel like it's a switch that was then turned off, or the players needed a different voice in those games. That's my personal belief."
None of which is to say Friedman is just burying his head in the sand and hoping things go better next year. He and his staff will spend the offseason trying to figure out how to make sure next year's postseason is more successful than this year's.
"In the regular season, we led baseball in every statistical category with runners in scoring position. In the series, we were not good," he said. "The question is, is it baseball? Or are there things we can do to improve upon that?"
Some Dodger fans have called for "change for change's sake," with the idea that you have to shake up something — anything — to get different results. The problem with that approach is that change, in and of itself, isn't a good thing. Change is not the goal, improvement is, and there's little reason to think a change in management would keep the Dodgers from going 0-for-20 with runners in scoring position next October.
The thing that is likely to keep that from happening is the fact that it almost never happens, so the odds of it happening to the same team two years in a row are ridiculously low.
It's not a satisfying answer, but it's probably the correct one: The Dodgers suffered from some bad luck and the Padres pitchers made some excellent pitches. That's why the Dodgers struggled with RISP and ultimately why they lost the NLDS. Dave Roberts and his coaching staff had nothing to do with it.
Have you subscribed to our YouTube Channel yet? Subscribe and hit that notification bell to stay up to date on all the latest Dodgers news, rumors, interviews, live streams, and more!