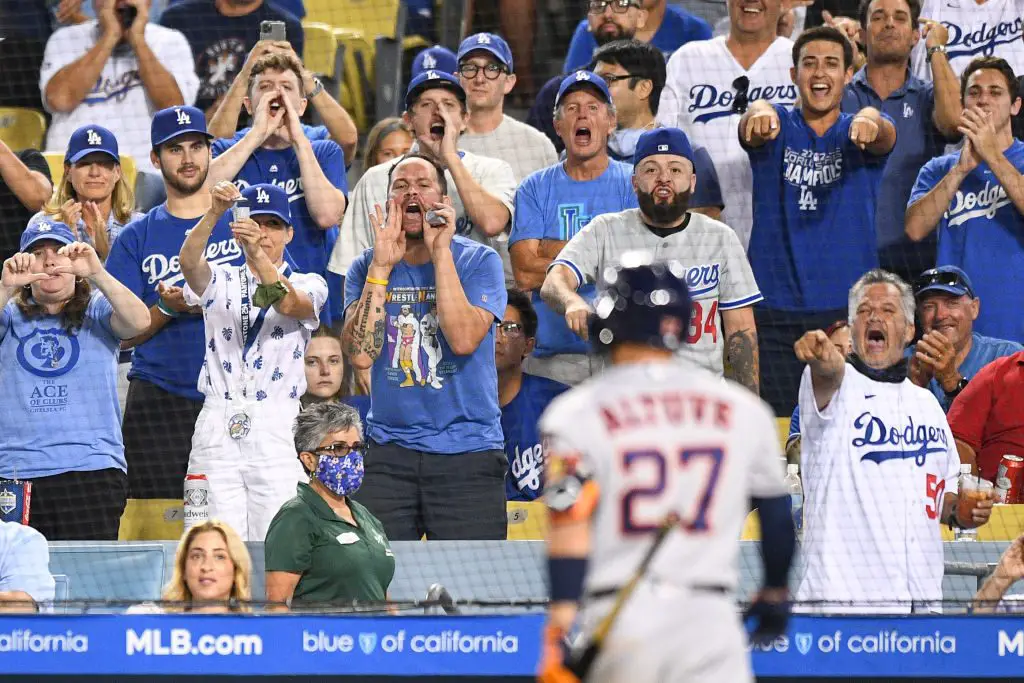 Dodgers Team News
Dodgers: Astros Players Reflect on Hostile Environment in Los Angeles
Dodgers fans have been waiting a long time to give the Astros the welcoming they deserve. Over a year and a half after their cheating scandal rocked Major League Baseball, fans in Los Angeles flocked to the Ravine to let the boos rain down. 
But that wasn't all that rained down. Dodgers fans took every opportunity to let the players know how they felt, throwing blow-up trash cans and foul balls back onto the field. The Astros would go o to shut LA out and take game 1. 
After the game, Astros fans talked about the rude welcoming from Dodgers fans. Houston reliever Ryne Stanek talked about watching Houston fans getting things thrown at them, including full beers at one point. 
People started throwing stuff at Astros fans and for a few minutes, you basically sat there and watched people throw full beers at people for half an inning. … It was kind of a bonkers atmosphere to play in, for sure. 
Astros' starter Lance McCullers Jr took a different approach to how he felt about Dodgers fans. That might have to do with the fact that he was dominant against Los Angeles hitters. 
I enjoyed the reception on the way out from the pen. There were a lot of people here and obviously a lot of booing, but I liked it. 
The environment was hostile for sure, but Astros players had to be expecting that after cheating the Dodgers out of a title in 2017. There are videos all over Twitter of Houston fans getting booed as they enter the stadium, but I have yet to find anything where things are being thrown at them. 
The Dodgers and Astros play the final game of their mini-series tonight in Los Angeles. Max Scherzer makes his Dodger debut, and it should be a whole lot of fun. 
Dodgers: Max Scherzer Talks About Joining a Talented LA Team, Hugging Albert Pujols