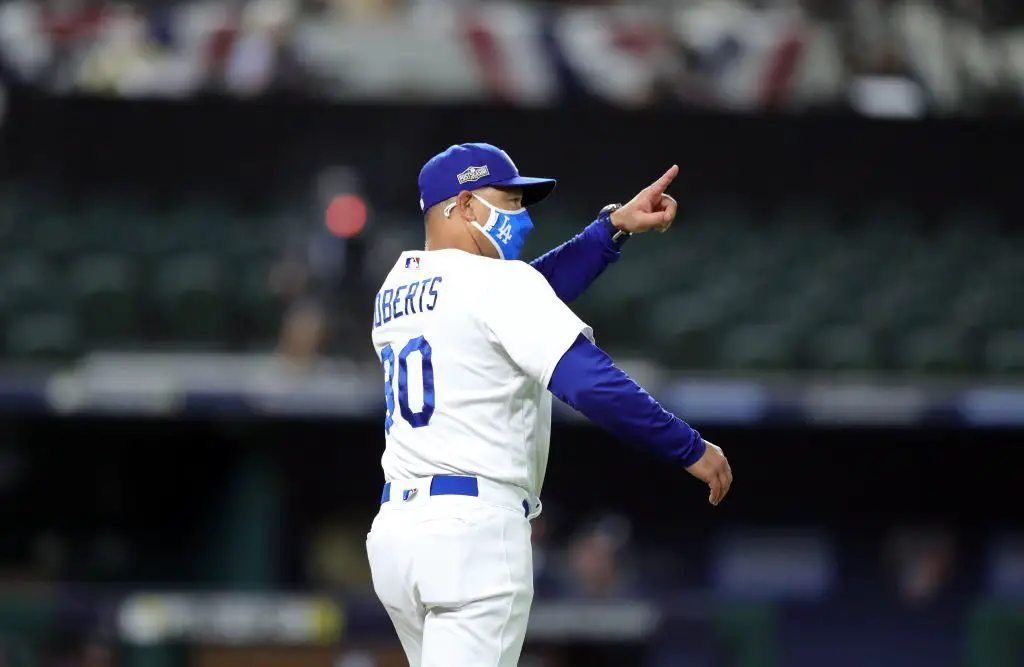 It's the first day of Spring Training games and people already want to know what the Dodgers lineup will look like in 2021. With the departure of Joc Pederson and Kiké Hernández in free agency, the consensus seems to be there will be some normalcy in the day-to-day.
Dave Roberts sort of confirmed that when he was asked what his lineup might look like during the season. The Dodgers manager basically said that it's going to be a lot of what we saw last year, minus the few guys that left. 
Doc named these guys in his predictions for his average starting lineup:
I think that obviously looking at where Mookie, Corey, JT, Max and Cody, and Will Smith in the middle. And now you're talking about the bottom third, kind of Pollock in the middle, CT in that area. And then toward the back third the Lux's, Barnes, kind of like that. And then you kind of have a lot of other really good options to integrate. 
The top of the Dodgers lineup probably won't change much at all during the regular season, barring any injuries. The middle of the order that Roberts listed projects to see a little bit of platoon role depending on the position, but AJ Pollock will likely get most starts in left field. Pollock will almost always get the starts in left field that are against a left-handed pitcher. 
At the bottom of the order, you will likely see Gavin Lux, though it's unclear how often that will be. The Dodgers starting job at second base seems like his to lose entering Spring Training, but that could quickly change over to Chris Taylor depending on how he progresses. 
The Dodgers will probably keep a bench full of left-handed options, including Edwin Rios and Matt Beaty. Austin Barnes will likely be the backup option at catcher, and Zach McKinstry has a real shot at making the big league squad.
The good news is that a lot of these things will work themselves out in Spring Training. 
Have you subscribed to our YouTube Channel yet? Subscribe and hit that notification bell to stay up to date on all the latest Dodgers news, interviews, live streams, and more!
Dodgers: Clayton Kershaw Talks About the Best Pitch He's Ever Thrown