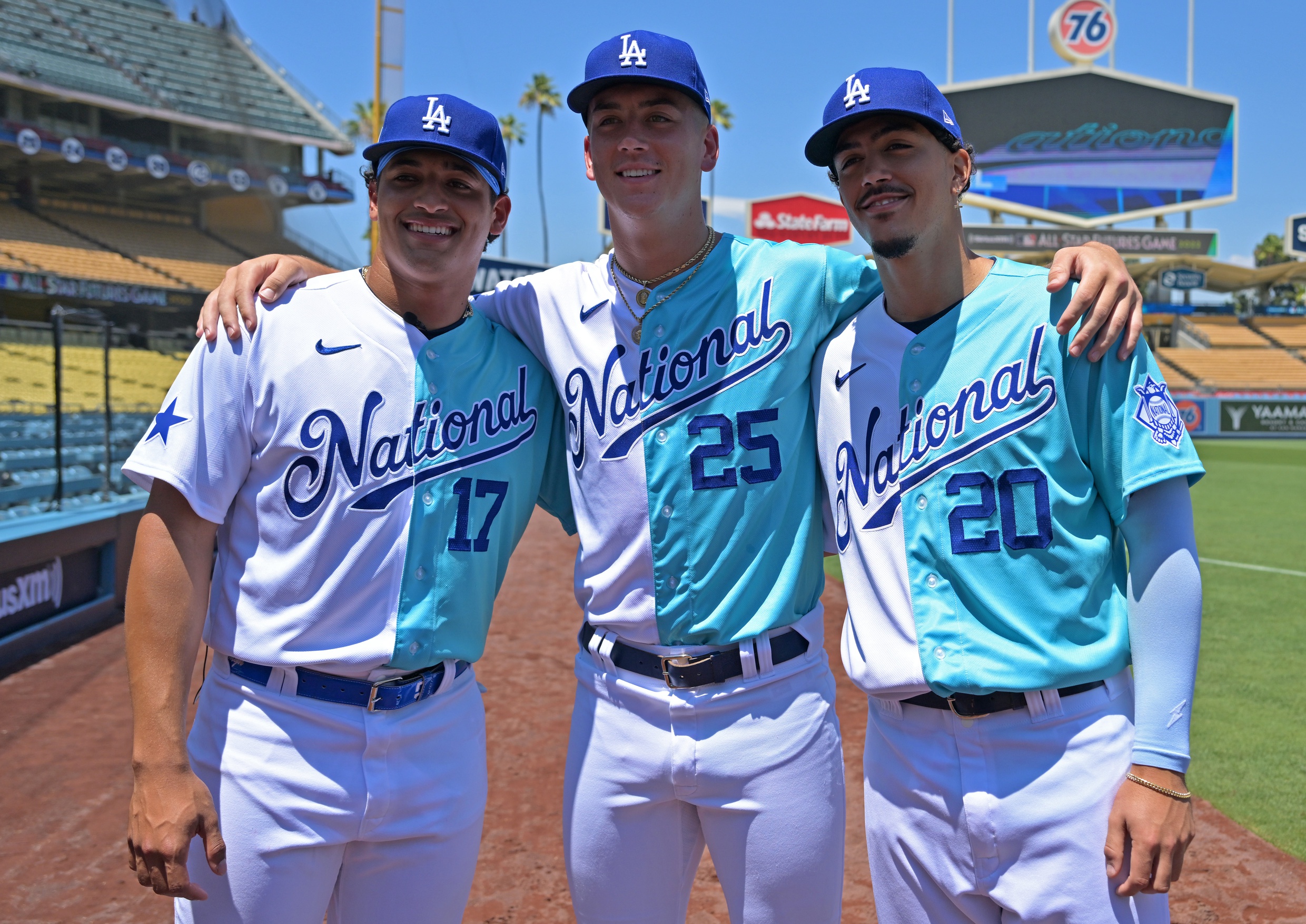 Okay, let's start this off by acknowledging that no one is actually untouchable. If the Angels called the Dodgers today and said "We'll give you Mike Trout and Shohei Ohtani and we'll pay their salaries, all we want in return is one prospect named …," Andrew Friedman would have the paperwork written up before Perry Minasian had even said the name of the prospect.
With that said, there are a few prospects in the Los Angeles farm system who are essentially untouchable, meaning there are no realistic scenarios in which the Dodgers would trade them, for a variety of reasons. Let's talk about three of those.
Diego Cartaya
Cartaya is L.A.'s top prospect and number eight overall on MLB Pipeline's top 100. He's a catcher whose only weakness is running, with 55 grades (on the 20-80 scouting scale) for his hit tool and his fielding and 60 grades on power and arm. He just turned 21 years old, his star is still rising, and he could be in the big leagues within the next year or so.
The only way the Dodgers would trade Cartaya would be in a one-for-one swap for a superstar, but teams shopping superstars generally want to rebuild their farm system in one fell swoop. There's not a realistic trade out there where Cartaya would make sense.
Bobby Miller
Miller is still developing as a pitcher, but he has all the tools to potentially be a frontline starter. At number 26 overall on MLB's prospect list, Miller grades above average on four different pitches (70 fastball, 60 slider, 60 changeup, and 55 curveball), with his only average grade being control. Control and command are what he's working on in the minors, and it's not crazy to picture him in L.A.'s rotation in 2023 and headlining it within a few years.
The main thing making Miller untouchable is the potential. His stuff is just too good to stomach the idea of him winning a Cy Young in someone else's uniform.
Dark Horse: Gavin Stone
Stone is seventh on the Dodgers' list and 77th overall, so why would I mark him as untouchable over some of the guys ahead of him? Simply put, Stone's stock is rising. He pitched at three levels in 2022 — High-A, Double-A, and Triple-A — and posted a combined 1.48 ERA with 168 strikeouts and just 44 walks in 121.2 innings.
Stone was on very few people's radar prior to 2022; now, he's a possibility for the big-league starting rotation in 2023. If L.A. thought he was a fluke, they might look to sell high on him. But all indications are that Stone is just a beast, the real deal, which makes him virtually untouchable on the trade market.
Have you subscribed to our YouTube Channel yet? Subscribe and hit that notification bell to stay up to date on all the latest Dodgers news, rumors, interviews, live streams, and more!