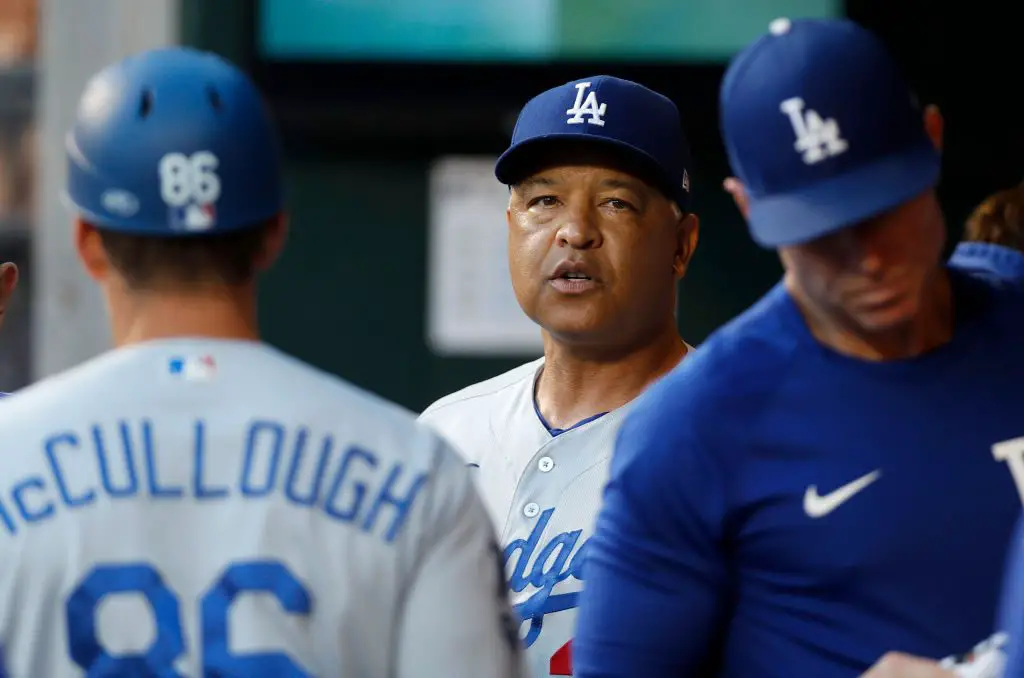 No one could have predicted where the NL West standings would have ended up in 2021. From the start, the only conversation was about the Padres and Dodgers going at it all season long to determine the top spot. 
Even when the Giants were winning games by mid-Summer, the only question was WHEN they would start to fall off. They never did, and the Padres faded into almost nonexistence at this point. Now out of the playoff hunt, San Diego only has 2022 to look forward to. 
But this is a big week for the Dodgers and Giants. Chasing by 2 games in the division hunt with 6 left to play, a lot has to go right for Los Angeles to win their 9th consecutive NL West division title. Let's look at some of the details to watch out for this week.
Dodgers Remaining Schedule
The Dodgers play 3 games against the Padres before taking on the Brewers for 3 more. The only question at this point is how hard those 2 teams will play. San Diego is out of the playoff hunt and has no reason to risk injury to their stars. Meanwhile, Milwaukee has already locked up their division and is not playing for anything other than preparing for the postseason. 
For the moment, there is no indication that either team will throw in the towel on these games. With the Padres floundering, it might make sense for them to try and at least win some games and make their manager look good, given that he is almost surely on the hot seat. 
Giants Remaining Schedule
The Giants play the Diamondbacks for 3 games and then follow that up with the Padres, so a similar situation to the Dodgers. But Arizona has won just 2 games against SF all year long and doesn't exactly match up with them well. Getting 1 win out of that series would be huge for Los Angeles. 
Starting Rotation Set
The Dodgers have their rotation lineup up all the way through the week, and that won't change unless they drop out of the division hunt. They start things with Walker Buehler throwing for them on Tuesday night, followed by Max Scherzer, and Tony Gonsolin. The weekend series lines up as Clayton Kershaw, Julio Urias, and Walker Buehler once again. 
For the Giants, they will throw Logan Webb on Tuesday followed by Alex Wood and a TBD starter for Thursday. They should have some combination fo Kevin Gausman and Anthony DeSclafani throwing over the weekend against San Diego. 
Tie-breaker Scenario
If the Dodgers manage to tie things up, Game 163 could be absolutely wild. It would be in San Francisco since the Giants have the head-to-head advantage in the 2021 season, and Max Scherzer would line up to start for Los Angeles. 
Wild Card Game
If the Dodgers fail to catch the Giants, then it lines up as an INSANE Wild Card matchup in Los Angeles. They would likely take on Adam Wainwright and the Cardinals for one game to decide who moves on to play the Giants. That game would be on Wednesday, October 6th in Los Angeles. 
A whole lot to look forward to this week, and it's going to be very stressful. Let's go Dodgers, let's go DBacks. 
Dodgers Rumors: Mike Trout Wants Angels to Sign Max Scherzer, How LA Can Re-sign Mad Max!