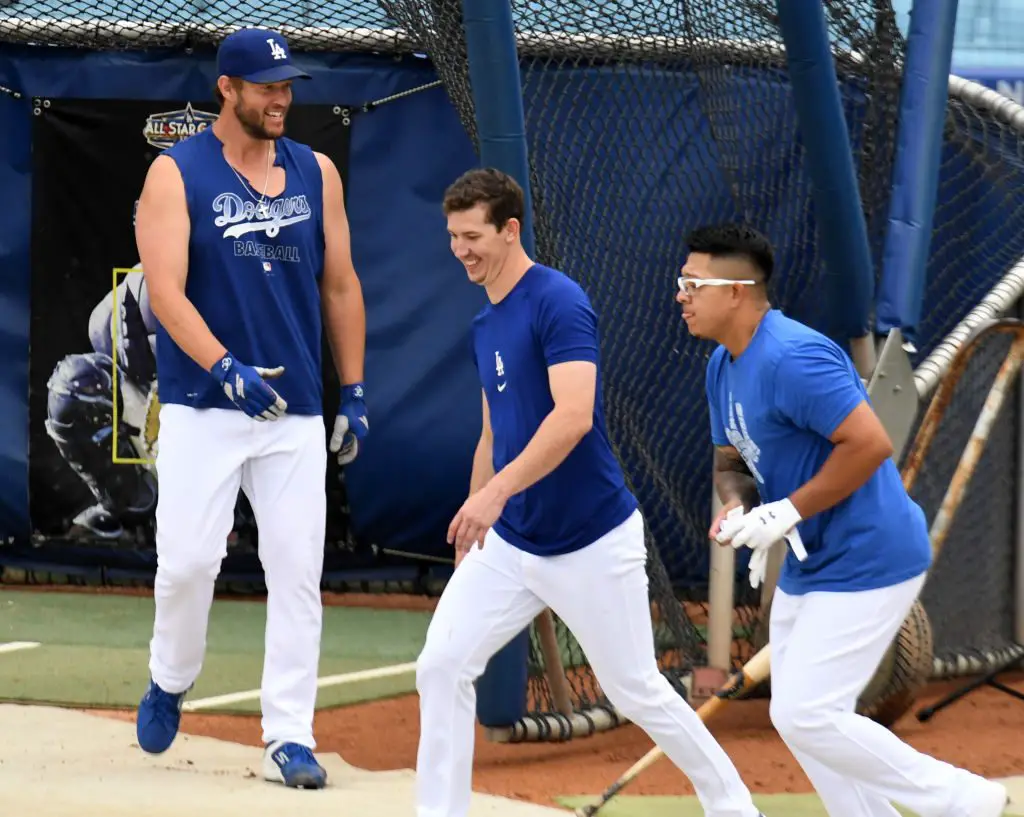 Editorials
Dodgers: How Does the Rotation Stack Up After Max Scherzer, Danny Duffy Trades?
The Dodgers wasted no time in loading up for the stretch run, and their roster looks incredible on paper. As if there wasn't enough star power in LA already, the team went out and added a pair of All-Star players to add to their growing collection.
Now that Max Scherzer is officially on his way to LA, let's take a look at how the starting rotation will likely stack up for the rest of the season.
1. Walker Buehler
Buehler is now the ace of this staff, there is no more denying that. Even with Max Scherzer on his way to Los Angeles, I'm not sure there's anyone you would rather hand the ball to in a do-or-die game than Walker. During Clayton Kershaw's absence, Buehler has gone 3-1 with only three earned runs allowed over his four starts. His 11 wins this season are second in baseball; only behind his teammate Julio Urías and a rejuvenated Kyle Hendricks, who both have 12. His ERA is also among the league's best, with a 2.19 stat that ranks 4th overall.
The 'stuff' has always been there with Buehler, but the opportunity to truly lead this staff has not. This month has given us a glimpse of what a future without Kershaw might look like one day, and it seems as if the 27-year-old is up for the task whenever that day comes.
2. Max Scherzer
It's not every day that a former Cy-Young winner gets traded to a team and isn't automatically the ace of the staff. That's how deep this Dodgers team is, however, and boy is it going to be fun to watch.
Max Scherzer has been quietly enjoying a great season to this point. His record may be a pedestrian 8-4, but his 2.76 ERA and 5.25 strikeout to walk ratio tell you that he is still the same dominant pitcher who you never want to face. Scherzer has had a few injury scares this season, with his most recent coming less than a week ago as he was scratched with triceps discomfort, but that doesn't seem to be a long-term concern at this point. He should step right in and become the team's number 2 starter.
3. Clayton Kershaw
Any team that can have Clayton Kershaw as their third-best starter is absolutely loaded with talent, and that is definitely the case here. Even though he's given up his fair share of runs this year, Kershaw has still found ways to get the job done.
He's pitched at least 6 full innings in 14 of his 18 starts this year, and his 6.7 strikeout-to-walk ratio is still elite for a starting pitcher. He may not be the same dominant force that he's been over the last decade, but he still has plenty left in the tank to help this team win it all once more.
4. Julio Urias
It's rare for a team's number 4 starter to lead the team in wins, let alone lead the league. Yet that is the type of season that Julio Urías is having in 2021. The Dodgers offense has a lot to do with it, as Urías is the owner of a 3.54 ERA on the year. But while he's definitely benefited from some great run support, Julio has looked good in his first attempt at a full major league season.
Urías has already blown by his previous high of 79.2 innings pitched, and he has more than held his own. After constant shuffle between the rotation and the bullpen during his first 5 seasons, he's delivered for this team as a valued member of the starting rotation. On many other teams, Julio would already be the 1 or 2 starter for sure. Here in LA, however, there's still some work to do before reaching that level.
5. Danny Duffy/ David Price
While the trade for Max Scherzer and Trea Turner received all of the headlines, the Dodgers made an additional move to bring in Danny Duffy from the Royals as well. This trade may seem like a filler, but Duffy could wind up playing an important part down the stretch for this team.
The first four rotation spots are all but locked in, but there is some flexibility at the back end as the season progresses. With David Price still struggling to find his form, Duffy could very well slide in as the 5th starter to eat some innings and save the bullpen. Alternatively, David Price could continue to get some starts while Duffy takes on the long reliever role in the bullpen. Either way, the Dodgers found themselves another depth piece that should help them keep their arms fresh after a very taxing month of July.
PODCAST: Reacting to Scherzer, Turner, & Duffy to LA