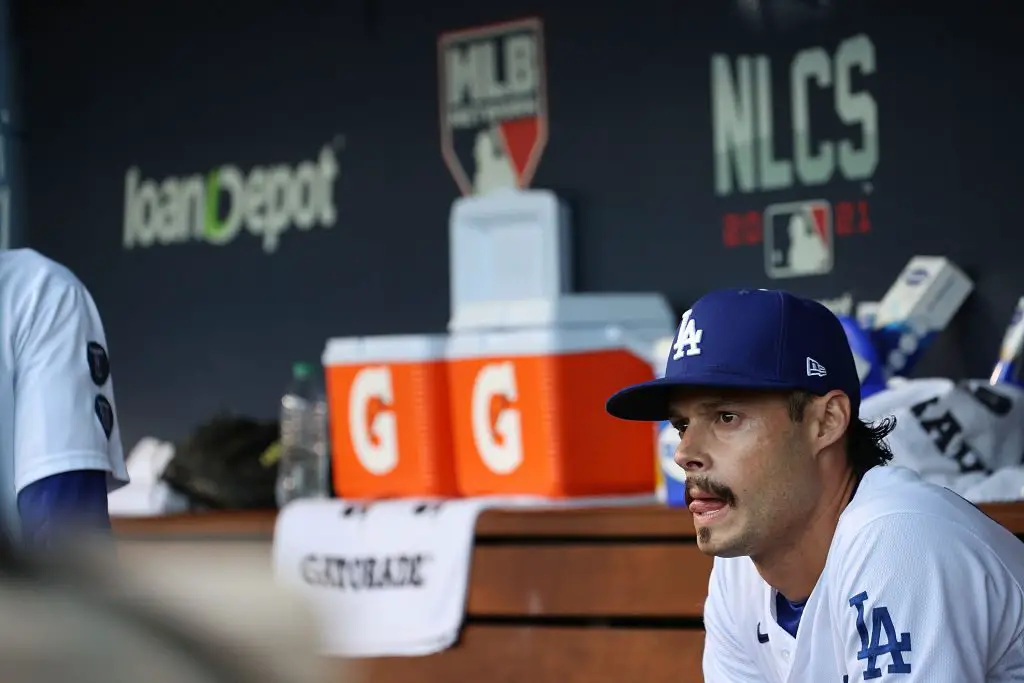 Dodgers Team News
Dodgers: Joe Kelly's Wife Ashley Sets the Record Straight on the Reliever's Health
As Joe Kelly walked off the mound alongside Dodgers trainer Yosuke Nakajima after sustaining a bicep injury in game 5 of the NLCS, nobody really knew what the immediate future would hold for the right-hander. How hurt was he? Was that the last time we'll see him in a Dodger uniform?
On October 30th the Los Angeles Times initially reported the following.
His status is complicated by the significant biceps strain he suffered in Game 5 of the NLCS. He won't be ready for the start of next season, according to a person with knowledge of the situation.
The author of that article has since updated the piece to remove that last line but the claim of Kelly not being ready for the start of the 2022 season still made its way around the internet and here on Dodgers Nation.
A few #Dodgers takeaways from the article:

• A move to 3B appears imminent for Corey Seager + he was offered a contract extension earlier in the year

• Scherzer is wanted back, but $100M is feasible

• Joe Kelly expected to get $4M buyout + won't be ready for start of 22 https://t.co/TtbwKJjbZ6

— Blake Harris (@BlakeHarrisTBLA) October 30, 2021
Per @jorgecastillo, Joe Kelly won't be ready for the start of the 2022 season after sustaining a biceps strain during game 5 of the NLCS.

Kelly is owed $12M next season but the #Dodgers can decline it via club option with a $4M buyout. pic.twitter.com/pncg5TR2L4

— Dodgers Tailgate (@DodgersTailgate) October 31, 2021
Now Joe Kelly's wife is clapping back. Ashley Kelly posted on Instagram on Wednesday that the rumors of her husband's demise may have been greatly exaggerated.
Joe Kelly's wife Ashley refutes an earlier LA Times report that the reliever wouldn't be ready to start the 2022 season. #Dodgers pic.twitter.com/vOz0owObOD

— Dodgers Nation (@DodgersNation) November 4, 2021
In the clip, which features the pitcher lightly throwing a plyo ball against the wall in a training room at Dodger Stadium, she writes the following.
Word on the Fake News Street is that Zad [she calls Joe "Zaddy"] won't be ready for the start of the next season? Would anyone like to step into the box maybe next week to test that theory?
So this is where we're at in the offseason, just in case you were wondering.
In other Kelly news, the Dodgers hold a team option over the right-hander for the 2022 season. Reports have the club expected to decline the $12 million option while possibly exploring a new deal at a lower rate. There is a $4 million buy out on the team option.
Of course, as we've already seen today… take these offseason reports with a grain of salt.
NEXT: LA Open to Re-Signing Kenley Jansen, If the Stars Align