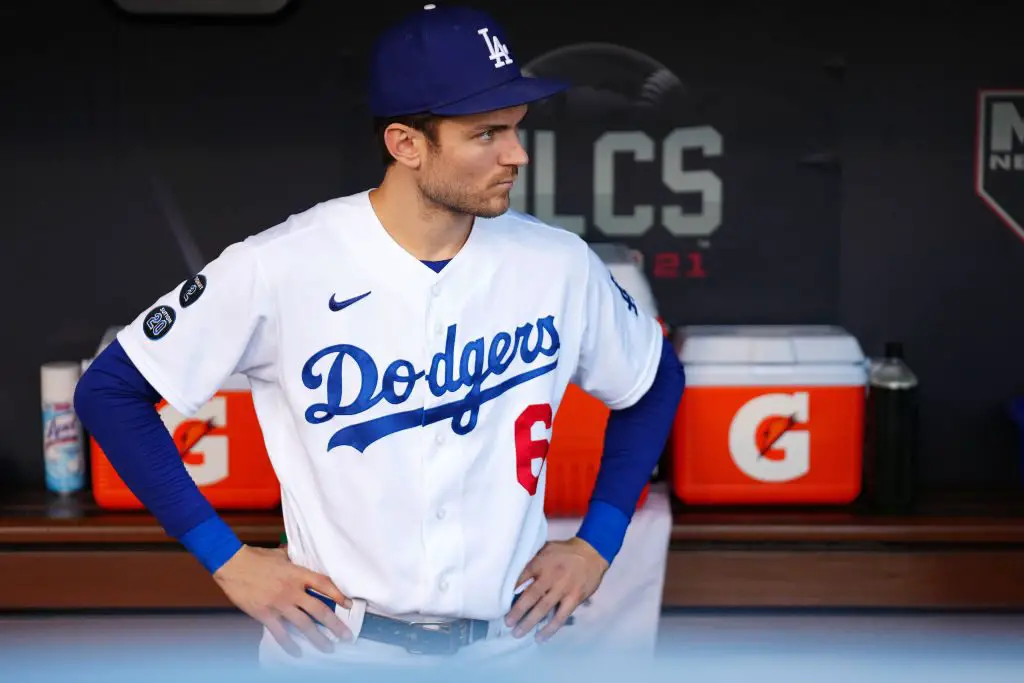 Dodgers Team News
Dodgers Need to Make Long-Term Contract with Trea Turner a 'Priority', Says Analyst
The Dodgers front office set out to cover the bases when Andrew Friedman swung the trade to acquire ace right-hander Max Scherzer and speedy shortstop Trea Turner at the deadline last season. Scherzer helped fill an immediate need in the starting rotation that had lost three of five members since opening day. And Turner not only helped the offensive attack soar over the final months of 2021, he also protected the Dodgers against the likely loss of long-time shortstop Corey Seager.
For at least one season.
The reigning batting champ is set to become a free agent after this season and, with that, the LA front office has another conundrum on its hands. Should they and can they get a contract extension done with a soon-to-be free agent shortstop?
As was reported, the Dodgers attempted to work out a contract extension with Seager last spring training and also attempted to bring him back this offseason. With him packing up and leaving for Texas, the door is open for Trea in LA.
A Turner contract was a point of topic on Spectrum's "Access SportsNet" show this week where the sentiment was that a deal needs to get done. Former LA utility man and current SNLA analyst Jerry Hairston Jr. feels it's a priority item for Friedman.
I think they're going to really make it a priority to sign Trea Turner. I think he stays in Dodger blue.
Dodgers Rumors: Trea Turner Hasn't Ruled Out LA Long-Term, Should LA Prioritize Extending Turner?
Turner is still just 28 years old and in the prime of his baseball life. He's a proven five-tool player at the big league level and with the spotlight on him at Dodger Stadium in LA over the relative anonymity of Nationals Park in Washington DC, he'll stand out even more over the next handful of years. And, beyond that, the Dodgers are at a point where they honestly need him around for the long haul. Fabian Ardaya of The Athletic had this to say this week.
You have this situation where Corey Seager's gone now. You're not really sure where Gavin Lux is going to play long term. You kind of need that impact-level guy. Andrew Friedman said it best, 'it's really hard to get those types of impact-level guys because those guys just aren't available all that often.' So when you have one of those guys on the roster, you kind of have to do whatever you can to try and keep him.
Certainly, upper echelon shortstop talent does not come cheap. Seager secured 10 year, $325 million this winter. Last season, the Mets and Francisco Lindor agreed to a 10 year, $341 million extension. And the Padres and superstar Fernando Tatis Jr came together on a 14 year, $340 million deal. Plus, Javier Baez was able to bring home $140 million over 6 seasons and free agent Carlos Correa is rumored to be seeking $350+ million.
Any of these figures are easily in the ballpark of what Turner can secure on the open market next winter. But with his desire to win above all else, there's a good chance he never makes that far. At least if Andrew Friedman, Brandon Gomes, and the Dodgers have any say in the matter.
Thankfully he's not a Scott Boras client.
NEXT: Is the Starting Rotation Actually Good Enough as is?