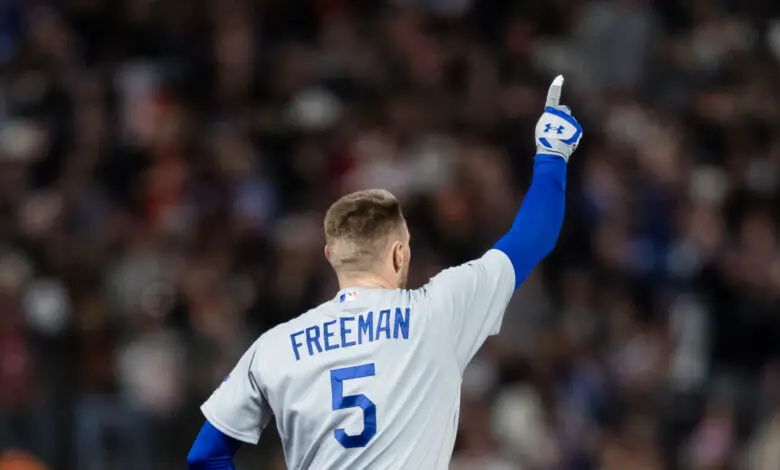 Dodgers Team News
Dodgers News: Freddie Freeman is Not Worried About Individual Records
With two games left in the regular season, Dodgers first baseman Freddie Freeman is putting the finishing touches on a fantastic campaign. His 90 extra base hits are an LA Dodger record and just 4 behind tying Babe Herman on the all time franchise list.
Despite being so close to that record while also sitting just one double and one home run shy of the first ever 60/30 in MLB history, Freeman isn't concerning himself with his own individual accomplishments. As usual, the 7-time All-Star is only concerned about his team winning ballgames getting back to feeling better at the plate.
"It that happen, that happens. I'm not really worried about that. If I start feeling good at the plate and start having good swings, that will potentially result in those. But if you start thinking about individual things, you're playing for the wrong reason.

Via Los Angeles Times
Every day Freddie put together a 3 hit night at Oracle Park on Friday. He's hitting .310 in 26 games this September but maintains he's not feeling locked in mechanically at the plate. More recent numbers will back that up (just 13 hits in his last 50 at-bats). Freeman set to work on changing that and trying to get his set up and swing back on track.
"The last couple weeks I haven't felt good at the plate. I've been bending over a lot with my upper half," Freeman said. "My work was better in the cage today. That's what I've been focusing on."
With two games left in the regular season, Freeman and the Dodgers are looking to pick up a few round numbers in San Francisco. For Freddie, it's that one double and one home run. For leadoff man Mookie Betts, it's that elusive 40th home run. And for the team as a whole, it's win number 100 on the season, which would give the club four 100-plus win seasons in the last five seasons and five since 2017.
"I wasn't part of one until last year," Freeman said. "Winning 111 was pretty cool. I think it's like three or four times in a row if we do it — so, yeah, that would be special."
For what it's worth if Freddie gets to 60 doubles, his manager said he would reluctantly do "The Freddie" dance with him.
Photo Credit: John Hefti-USA TODAY Sports
Have you signed up for the Dodgers Nation newsletter yet? Get the latest news, rumors, highlights and more right in your inbox every day! Keep up to date on every single thing involving your boys in blue!