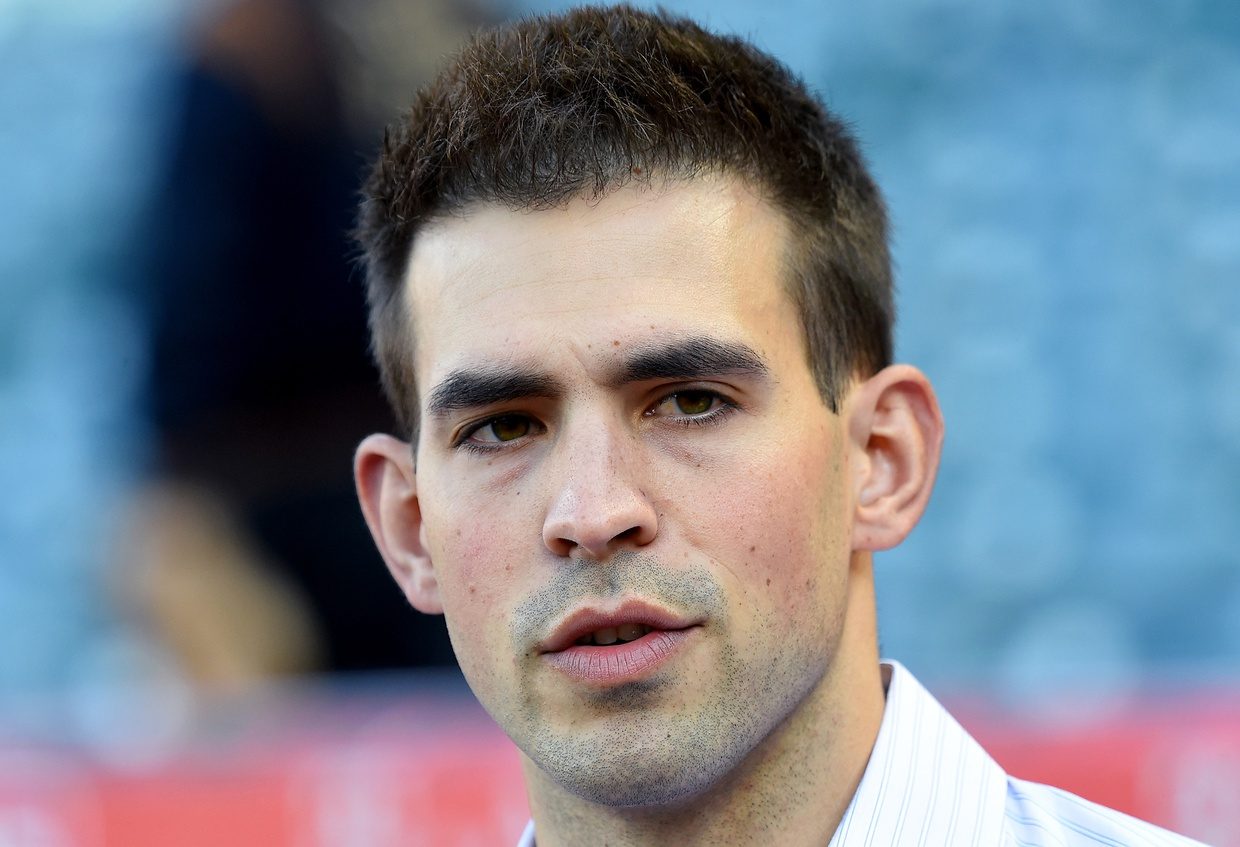 Dodgers Team News
Dodgers News: Joe Davis Gets Advice from a Legend Prior to First World Series Call
Dodgers broadcaster Joe Davis is getting ready to call his first World Series. Joe Buck was FOX's leading man for over two decades, but when he jumped to ESPN, Davis was the obvious and deserving replacement.
As Bill Shaikin writes in the Los Angeles Times, one of the negatives of being on the national stage is that many fans will think you're biased against their team.
The charge of bias almost certainly will be leveled against Davis, no matter what he actually says on the air. …

The perception of announcer bias is not a new phenomenon, but the megaphone of social media is.

"It's death by a thousand cuts," Buck said.

Buck said that Davis "joins me as the only guys to call the World Series on national television in the social media era." He said his father Jack — a Hall of Fame broadcaster — also received criticism, but only after a few days had passed.

"He used to get handwritten letters from fans that were horrendously nasty," Buck said. "He and Vin talked about it. Vin got the same stuff. Now, it's just 140 characters away. Everybody has got access to you, if you want to jump down into that mess.
Hold on a sec. Vin Scully got accused of bias? Social media didn't exist back in 1986, but letters to the editor did. From the October 29, 1986, edition of the New York Daily News.
Red sympathizers

Brooklyn: It made me sick to hear how pro-Boston Vin Scully and Joe Garagiola were. Sure, the Mets made some bad plays in Games 1 and 2, but was it necessary for NBC to keep showing the mistakes on instant replay? I'm sure that now that the Mets have won the World Championship, Mr. Scully is crying in his beer for the poor Red Sox.

Ira Sussman

On the other hand

Old Bridge, N.J,: Vin Scully's obvious bias towards the Mets in Game 5 was outrageous. He kept referring to Gooden's "tough luck": no mention was made of the nine hits he allowed in four innings. At least five or six times, he made reference to Rice's wind-blown triple; no mention of Teufel's wind-blown homer. The Sox hits were "bloopers." I seem to recall two or three Mets hits that fit that description.

George A. Fanelli
(Other letters to the editor that day included Maryanne Fitch of Plainview, Long Island, complaining about the TV cameras zooming in on players spitting, and Enid Moore of Manhattan griping that her favorite shows had been preempted by the World Series and why can't they put the World Series on "Channels 9, 11, and 13"?)
So yes, Davis will be criticized and accused of bias. To prepare, he says he has turned off social media for the time being. Buck says that's a great idea.
"You can't go to social media to find out if you're doing a good job. You have to know you are doing well, you have to know the work you are putting in, and you have to find the three or four people you really trust to give you an honest opinion."
As Davis says, the criticism is going to come, but he doesn't need to get caught up in it.
"I just think it's healthy to be off there and not to be too caught up in that," Davis said.

"You don't get into this because you want to be liked, I don't think. I know that people have strong opinions, and these games are emotional games for fan bases to watch. I get that, a lot of times, the announcers become the target."
As Dodger fans, Joe Davis is all we get this World Series. Let's hope Astros and Phillies fans know how lucky they are.
Have you subscribed to our YouTube Channel yet? Subscribe and hit that notification bell to stay up to date on all the latest Dodgers news, rumors, interviews, live streams, and more!