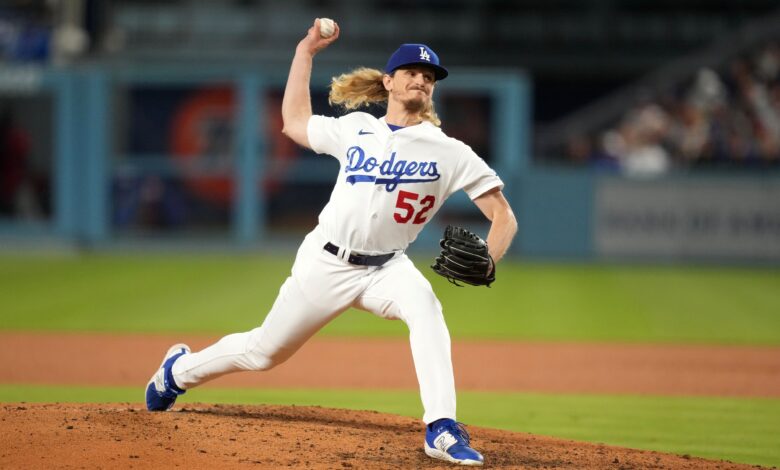 Dodgers Team News
Dodgers News: Phil Bickford Activated Off Injured List, Vesia Sent to Minor Leagues
The Dodgers announced an unexpected roster move ahead of the series opener against the Houston Astros. Reliever Phil Bickford was activated off the 15-day injured list. In order to make room for the right-hander, lefty Alex Vesia was optioned to Triple-A for the second time this season.
The Dodgers have activated RHP Phil Bickford and optioned LHP Alex Vesia to Triple-A Oklahoma City.

June 24, 2023
Bickford comes off the IL after spending the better part of the last three weeks there nursing a lower back issue. The rubber armed hurler made one minor league rehab appearance at Triple-A Oklahoma City this week, tossing a clean inning on Tuesday.
He's struggled this season, posting a 7.33 ERA over 23 appearances for the Dodgers including 16 runs allowed over his last 10 outings.
For Vesia, he too has struggled all season long, sporting a 7.58 ERA over 23 games. He spent most of May down at the AAA level after the Dodgers opted to let him get some work and get back on track away from the big leagues. He pitched well for the OKC team, rattling off 9 scoreless appearances before rejoining the LA bullpen. That success didn't translate back at the MLB level with 7 earned runs in 8.2 innings.
Phil Bickford is out of minor league options so if the club didn't activate him, the would risk losing him on waiving trying to send him down. Vesia, however, can be optioned a few more times this season before they could potentially lose him.
Have you signed up for the Dodgers Nation newsletter yet? Get the latest news, rumors, highlights and more right in your inbox every day! Keep up to date on every single thing involving your boys in blue!