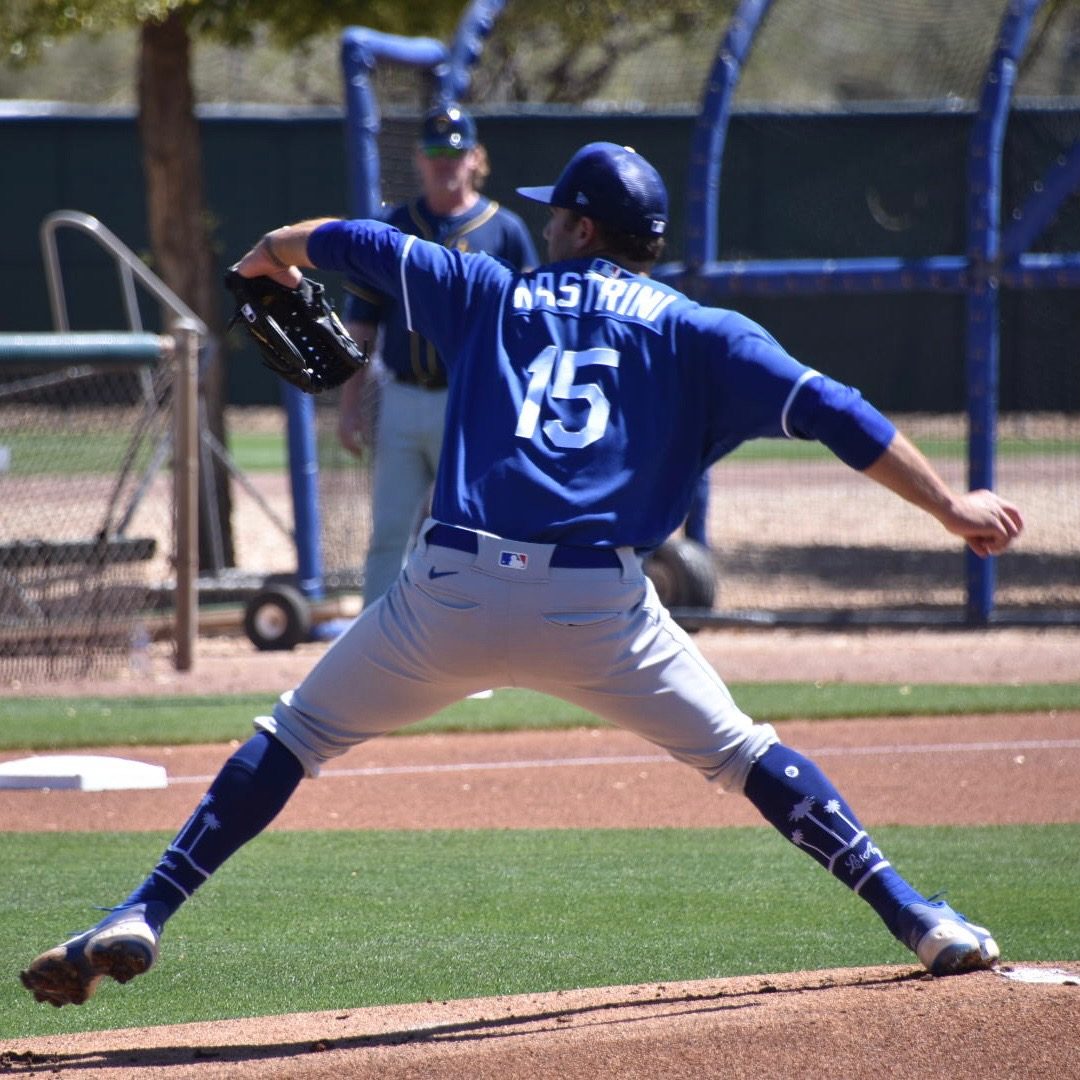 The Dodgers continue to find and develop pitching talent. After the first month of the minor league season, there have been more than a few standouts. This article will take a look at three of them. However, the obvious one, Ryan Pepiot, has had a lot of coverage so we'll not include him here.
It has also been tough to find many starters with some notable innings pitched because it looks like the Dodgers are keeping the reigns on most of the starters. Let's take a look at three pitchers that are worth watching.
Nick Nastrini
The Dodgers drafted right-hander Nick Nastrini in the 4th round of the 2021 draft out of UCLA. The below note from MLB Pipeline shows how the Dodgers are able to find talent that many teams might pass over. They look deeper than the surface and don't just pass over problems.
Nastrini opened 2021 as one of the best college pitching prospects on the West Coast and a potential second- or third-rounder, but his control evaporated and he pitched his way out of UCLA's rotation after just five starts. The Dodgers scouted the local product enough to believe that his issues were correctable – MLB Pipeline
Instead, the Dodgers made a smart draft pick and are being rewarded. As of May 12, 2022, Nastrini has thrown only 15.2 innings but has struck out 29 batters for the High-A Great Lakes Loons. He's only given up 8 hits, with an ERA of 2.30, but has walked 11.
From MLB Pipeline:
After sitting at 92-94 mph with his fastball at UCLA, Nastrini averaged 96 mph with outstanding carry and pitch characteristics in shorter stints as a pro. He also delivered high spin rates on both his upper-70s downer curveball and low-80s sweeping slider, which both show the potential to become plus offerings. He also can miss bats with a mid-80s changeup that dives at the plate, though he doesn't use it very often.
I was able to ask Nick a couple of questions.
2080: Your K% is outrageously good, especially for a starter. What are some factors that are contributing to so many Ks?
NN: A huge part of my game I have worked on from last season is getting into good counts… counts that give me the leverage vs. giving the hitter leverage. For example counts like: 0-2, 1-2, or even 0-1. Once I get into those counts I'd say it's just executing my pitch which I feel like I've done an ok job at obviously I can still progress in that regard. Also, our pitching coach (David Anderson) and I have been doing a lot of work pre-starts to understand the hitters and go into the game with a pretty good plan of attack.
2080: It sounds like you are able to embrace what the Dodgers do with pitchers. What is the main thing you are working on now to take that next step?
NN: Our staff and I have identified a few things to work on, but the main area of focus is definitely sequencing and being comfortable throwing all 4 of my pitches in any count to both left and right-handed hitters. This will make the hitters be more honest with my stuff and not sit a certain pitch in a particular count which will help get more hitters out as I progress.
John Rooney
Left-hander John Rooney was drafted by the Dodgers in the 3rd round of the 2018 draft and was progressing quite well. Then, he basically lost 2020 (the pandemic) and 2021 (and an injury). He started the 2021 season with Double-A Tulsa but only in eight games due to a lat injury. In 2022, Rooney started the season at Tulsa again and has been excellent. He has pitched in 23.1 innings with 26 strikeouts and only 9 walks. He's only given up 16 hits and sports an of ERA 3.09.
2080: Your numbers across the board have improved. What are some things you worked on to get this boost?
JR: Last year I was too velo focused and was overthrowing. Although my stuff was a tick harder last year, my pitchability and control suffered from it. This year I just shifted the mentality back to what makes me really good. And that's commanding the zone, knowing what pitch will get batters out, and being efficient to get my innings for the team.
Rooney mixes in a low 90s fastball with an 83-86 slider and an 82-83 MPH changeup.
One of the weapons Rooney brings to the table is an amazing pickoff move. Below is an example of his pickoff move.
John Rooney, showing the plus pickoff move pic.twitter.com/lir4Tu0etX

— Josh Thomas (@jokeylocomotive) April 10, 2022
2080: I've lost track, are there any dumb pickoff rules in AA?
JR: Only change is you can only pick off 2 times during an at-bat
Below is Rooney talking about his pickoff move.
Gavin Stone
Gavin Stone started his professional career in 2021 after being drafted in the 5th round of the 2022 draft. He had huge strikeout numbers across the Quakes and the Loons with 138 in just 91 innings. 2022 has brought a change in his strikeout totals.
2080: Last year you really piled on the strikeouts. This season there are fewer. Are you working on being a bit more efficient? Your overall numbers are really good.
GS: Yeah for sure. As a starter, you obviously want to be efficient so I've been trying to get early contact with good pitches in the zone and just trust my defense to get deeper in games.
Gavin Stone got the start for Great Lakes on Thursday & went 5 IP, 3 H, BB, ER, 6 K. Mixed FF: 92-94 mph, SL: 82-85 mph, CHG: 83-85 mph. FB has late life and ride, slider was tighter, played well off of his FB, changeup looked plus generated lots of ugly swings #AlwaysLA pic.twitter.com/dRe3LtVXCm

— Geoff Pontes (@GeoffPontesBA) May 13, 2022
Above, you can see his pitch mix with the 92-94 MPH fastball, a slider from 82-85, and a changeup from 83-85 MPH.
2080: Are you in any pitch counts or innings limits?
GS: Yeah they keep us on a strict pitch count but it varies depending on who is pitching that day
2080: Compared to other starters you are close to tops in innings across the system. Was there anything special you worked on in the off-season? New pitches?