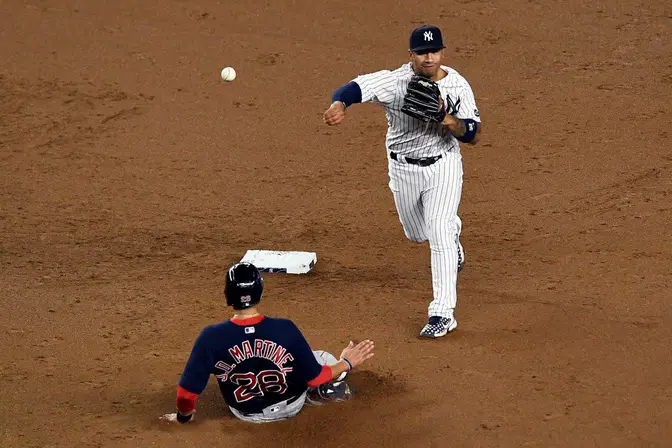 Dodgers Team News
Dodgers Rumors: Writer Thinks LA Should Trade J.D. Martinez for Gleyber Torres
The Dodgers infield has been hit with the injury bug to start the 2023 season. Gavin Lux tore his ACL in spring, making Miguel Rojas the team's new starting shortstop. Now, Rojas has been out for the last two games with a groin strain, while Miguel Vargas, the team's starting second baseman, missed Wednesday's game after getting hit by a pitch on the hand. Vargas' replacement at second base, Mookie Betts, collided with Jason Heyward on Wednesday, and is reportedly dealing with an ankle sprain.
If all those guys were to miss a game, Austin Barnes would likely have to play second base.
So, clearly, what was once a position of depth is now quite the opposite, which is why over at Bleacher Report, Brandon Scott has an interesting trade proposal in mind.
He thinks the Dodgers should trade for All-Star infielder Gleyber Torres from the New York Yankees, and send back All-Star designated hitter J.D. Martinez. Here's a part of what he said:
"There is an awkward fit of not being able to get Will Smith's bat in the lineup when he's not catching, because 35-year-old Martinez is exclusively hitting. The Dodgers could trade Martinez, but acquire Torres, who would be able to play second base when Smith is DH.

"Martinez is still a good hitter, but Torres would upgrade the Dodgers' options at both second base and DH. It's possible the time has passed for the Yankees to trade Torres, who's been in trade rumors before, and they hold onto him. But it is a logical fit for the Dodgers, who have as much prospect ammunition as anyone to trade for a player."
The Dodgers acquisition of Martinez turned some heads initially, as they usually wouldn't be interested in having a full-time DH. The Dodgers loved using the DH position last year to get their guys a pseudo day off, while still keeping their bat in the lineup. We saw that a ton with Will Smith, who DH'd 25 times last season.
Now though, with Martinez as the full-time DH, the Dodgers aren't able to get Smith's bat in the lineup on his off days. And through five games, he's been the team's best hitter, slashing .421/.478/.1.000 with three home runs, a league-leading 10 RBIs and an OPS of 1.478.
So, moving on from Martinez and bringing in an infielder with the ability to play second base and shortstop would solve two of the team's biggest problems — and Torres isn't too shabby, himself.
The 26-year-old was an All-Star in his first two years in the league, 2018 and 2019. In his rookie season, he hit 24 home runs and drove in 77 RBIs, and followed that up in his second year with a massive 38 bombs and 90 RBIs.
After a few down years, Torres regained his form in 2022, hitting another 24 home runs and driving in 76 RBIs. And now, through six games in New York, he's already slashing .421/.560/.789 with two home runs, six RBIs, a league-leading five stolen bases and an OPS of 1.349.
He might be playing himself out of a trade, but if he's available, he would definitely solve a few of the Dodgers problems. Torres is also arbitration-eligible next year, before becoming a free agent in 2025.
For what it's worth, I don't see any way the Yankees trade Torres — and I also don't think the Dodgers are going to give up on Martinez this early. But hey, mock trades are always fun to discuss.
Do you want to see the Dodgers trade J.D. Martinez for Gleyber Torres? Let us know in the comments below!
Have you subscribed to our YouTube Channel yet? Subscribe and hit that notification bell to stay up to date on all the latest Dodgers news, rumors, interviews, live streams, and more!