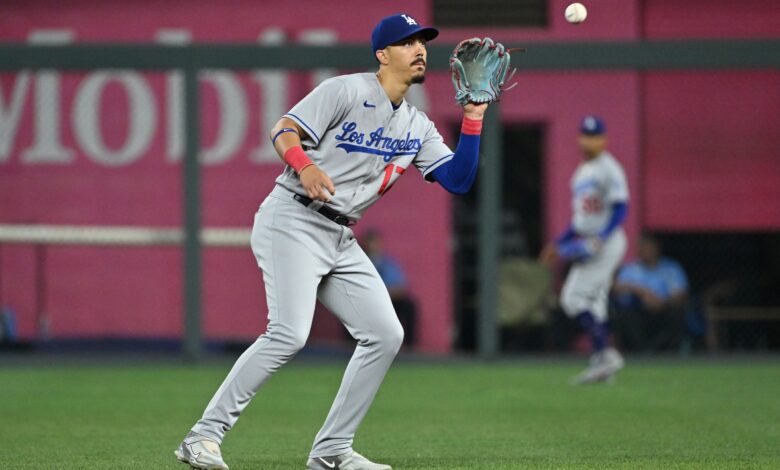 Miguel Vargas entered the season as one of the top prospects in baseball and had the opportunity to earn a starting role as the Dodgers' second baseman. After lighting it up in Triple-A in 2022, slashing .304/.404/.511 with 17 home runs, Vargas seemed primed to make the leap to the majors.
Unfortunately, Vargas' success did not translate to the big leagues.
Vargas was sent down to Triple-A in mid-July, where he hit .317 with a 1.005 OPS and 12 RBI in his first 15 games. In August, however, Vargas has batted just .200 across 40 at-bats.
Because Vargas has shown such promise in his short career, the Dodgers are keeping a close eye on the 23-year-old.
"It feels like the confidence is coming back," Dodgers General Manager Brandon Gomes said. "He's swinging the bat well. It's, 'OK, let's continue to see how the swing is holding up.'"

(Via The Orange County Register)
Gomes did point out that it is difficult to judge if a player is major-league ready based on his performance in the minors, as the competition is at a much lower level.
"We keep tracking how his swing looks against major-league quality stuff," Gomes said. "The thing is, if we're being honest, in Triple-A you face major-league quality pitching maybe twice a week. So it's – how many 88 to 92 (mph) guys has he faced? He's doing exactly what he's supposed to be doing. … It just takes a little longer because if you have a hot streak here, that's legit. But an eight-game streak down there? It might be two guys throwing 94, 95. He's been handling velo better, there's been stuff like that."

(Via The Orange County Register)
Vargas suffered a hairline fracture of his right pinkie finger in spring training and was hit by a pitch on his right thumb in the first week of the season. Gomes said he suspects that his hand ailments could have led to his poor 2023 season, in which he batted just .195 across 81 games.
"His swing was in such a good place coming into spring," Gomes said. "Watching him hit with JD, it was, 'Oh, God, this guy is dialed in.' Then having the multiple finger issues – the cascading effects of those things I don't think we ever could account for them."

(Via The Orange County Register)
It remains to be seen if there is a spot for Vargas on the 2023 roster, as the addition of Amed Rosario and Kiké Hernandez – both right-handed hitting infielders – at the trade deadline limits the need for Vargas to rush his return.
The Dodgers are running away with the NL West race, currently 8.5 games up on the San Francisco Giants.
Have you signed up for the Dodgers Nation newsletter yet? Get the latest news, rumors, highlights and more right in your inbox every day! Keep up to date on every single thing involving your boys in blue!