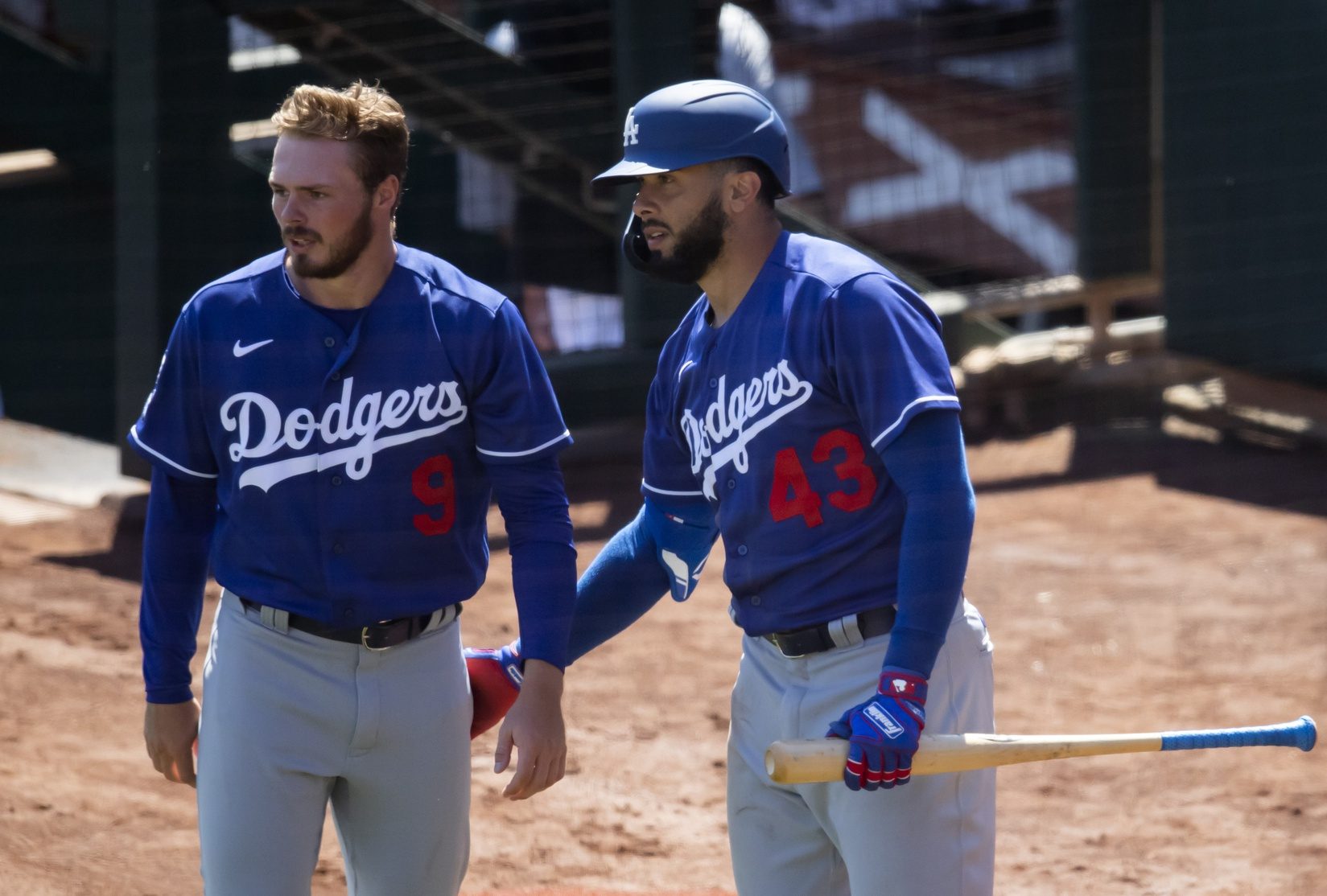 Editorials
Dodgers: Tough Decisions Ahead for LA and Opening Day Roster
We're in the home stretch now! Opening day is less than two weeks away and it's crunch time when it comes to making personnel decisions for the Dodgers and Dave Roberts. Opening day is set for Friday, April 8th and at the moment, we know who's on the mound for the blue in Colorado. Moreover, roster wise much of the starting lineup, the bench, as well as the rotation and bullpen appear set. But there are some hard choices ahead for the final few spots to start the season.
MLB has set the opening day rosters at 28 following the shortened spring training. That offers a bit of respite for the Dodgers for sure. Still, following some under-the-radar signings by Andrew Friedman and the front office, there are more quality bodies than spaces on the big league roster for April 8.
So, let's look at the roster locks.
Pitchers
Tyler Anderson
Phil Bickford
Walker Buehler
Tony Gonsolin
Victor Gonzalez
Brusdar Graterol
Andrew Heaney
Dan Hudson
Clayton Kershaw
David Price
Blake Treinen
Alex Vesia
Position Players
Hanser Alberto
Austin Barnes
Cody Bellinger
Mookie Betts
Freddie Freeman
Max Muncy
Will Smith
Chris Taylor
Justin Turner
Trea Turner
These are the 24 presumed locks for the roster. That leaves four spots for at least eight candidates.
On the Bubble
Infielder/outfielder Gavin Lux. Infielder/DH Edwin Rios. Corner infielder Jake Lamb (minor league contract). Veteran outfielder Kevin Pillar (minor league contract). Utility man, Zach McKinstry. Right-handed reliever Evan Phillips. Right-hander Carson Fulmer. And left-hander Caleb Ferguson.
Noticeably missing are pitchers Justin Bruihl, Mitch White, Andre Jackson, and Garrett Cleavinger, all of whom have minor league options and will stand to benefit from more action hanging back at Camelback Ranch or Triple-A. Of this list, White or Jackson would be the most likely sleeper options for an opening day role with the Dodgers.
So, let's now dive into the eight on-the-bubble names listed above. (Note: all stats are as of March 26th.)
Gavin Lux
First, Lux is in the middle of a tough spring. Over 6 games and 11 at-bats, the former top prospect is hitting just .091. Still, the eye test shows a player feeling good in the box despite the lack of results. The main reason why Gavin might not make the opening day roster is to get him consistent at-bats at AAA for a week or two.
With minor league options remaining, Lux could be a victim of a roster crunch while the Dodgers opt to explore other intriguing veteran options off the bench. But considering he really doesn't have anything else to prove in the minor leagues, it's better than 50/50 he's with LA on April 8th.
Edwin Rios
Rios could find himself in a similar situation to Lux in that the club might be more interested in seeing what they have on their hands with some of the more veteran players remaining at camp. Additionally, the 27-year-old is coming off of a significant shoulder operation and has just 14 plate appearances since then.
However, those 14 plate appearances have been really good this spring. The slugger has 5 hits, 3 walks and a home run, good for a 1.389 OPS over 5 games. It's a small sample size but is definitely opening eyes in the clubhouse.
Is Rios deserving of an opening day roster spot? Absolutely. Will he get one? I'd lean more towards no only because of the lack of work he's been able to put in since last May. With the aforementioned veteran options intriguing the Dodger front office, Rios is more likely to be a victim of the roster crunch with the caveat that he also needs to get more consistent at-bats down at the minor leagues for a few weeks at least.
Jake Lamb
The Lamb signing was an eye catcher when it was announced. The veteran slugger has 91 career homers at the big league level and was one of the better young third basemen in the game before a shoulder injury derailed his career.
He's still just 31 years old and has the ability to play at all four corners, something the Dodgers and Dave Roberts absolutely love. Given that Lamb would make only $1.5 million if he makes the MLB roster, it's practically a steal to at least see what you have in the veteran as an option off the bench.
Notably, he's been one of the better performing Dodgers this spring, batting .444 (8-18) with 4 extra base hits. So, don't be afraid to lock him in for opening day.
Kevin Pillar
Pillar was a late comer to Camelback Ranch. Signed less than a week ago, the team has quickly tried to see what they have in the 9-year big league veteran. Of the positives in Pillar's favor, he's one of the few true center field options on the roster.
In his heyday with the Toronto Blue Jays, the outfielder was regularly in Gold Glove conversations. That said, his bat has never really been on par with his defensive abilities. While he does have 97 career home runs, he struggles at getting on base, owning a career .297 on-base percentage.
Given the front office's penchant for trying to find diamonds in the rough, an opening day roster spot for Pillar would not be shock to the system. However, given that he was a late addition to the field of non-roster invitees, the team may be able to stash him away at extended spring training for a week or two to have him work with the staff of hitting coaches before giving him time at AAA.
For what it's worth, Pillar has said that he's open to doing whatever it takes to be part of the Dodgers.
Kevin Pillar on Why He Signed With the Dodgers, Why LA Took a Chance on Him, His Role & More!
Zach McKinstry
After starting 2021 hot, McKinstry pulled an oblique and fell into an abyss swing wise. If it boils down to an opening day spot for Zach or any of the four players above, pick the other player.
He'll play a role with the team this season for sure. It just isn't likely to be on opening day.
Evan Phillips
The right-hander was every bit of a 2021 Dodgers move for Andrew Friedman. Players kept getting hurt, the team would acquire a player you've never heard of and that player would mostly excel in LA.
In short work out of the bullpen last season, Phillips ate up some much needed innings in the regular season and put together a masterful performance in the NLCS against the Braves to keep the Dodgers World Series hopes alive for one more day. But the visions of 2021 are well behind us and this is a what have you done for me lately kind of world.
That said, Phillips hasn't been exceptional so far this spring. He's allowed 4 hits and 2 runs over 1.2 innings pitched. It's a small sample size and he still has more than enough time to prove himself worthy of a mop up duty role to start the season. Considering the quick ramp up period for starting pitchers this spring, an extra arm like Phillips makes sense — especially with expanded rosters for the first month of the season.
Carson Fulmer
Much like Pillar and Lamb, Fulmer is another veteran option that could be a prime diamond in the rough for the Dodgers. A much-heralded former first round draft pick, Fulmer quickly made it to the big leagues and has struggled almost constantly. The same can be said for his time at the minor leagues as well.
But now he's with the Dodgers. And the Dodgers fix pitchers. They're magic like that.
Fulmer has tossed 3 scoreless innings so far this spring but that shouldn't be enough to earn an opening day roster spot.
Caleb Ferguson
Of the pitching names on this list, Caleb is the most deserving. But he's coming off Tommy John surgery and only has a few innings of work on that reconstructed elbow. Ferguson is a prime candidate to stay back for extended spring training at Camelback where he can continue to dial in his mechanics and build up his arm strength.
Still a Ways Away
Right-handed pitchers Tommy Kahnle and Dustin May are recovering from Tommy John surgery. Kahnle could or should be ready to join the team some time mid-April. However, Dave Roberts has been somewhat tight-lipped on the status of the reliever. Notably, he hasn't appeared in a Cactus League game thus far.
He did toss in his first live batting practice earlier this week.
#Dodgers Tommy Kahnle's first live BP session since TJ surgery pic.twitter.com/VG0pZNtHHw

— Bill Plunkett (@billplunkettocr) March 26, 2022
Dustin May will be out until after the All-Star break at best.
Final Roster
With all the build-up out of the way, here's a roster you could reasonably see on opening day.
Pitchers
Tyler Anderson
Phil Bickford
Walker Buehler
Tony Gonsolin
Victor Gonzalez
Brusdar Graterol
Andrew Heaney
Dan Hudson
Clayton Kershaw
Evan Phillips
David Price
Blake Treinen
Julio Urias
Alex Vesia
Position Players
Hanser Alberto
Austin Barnes
Cody Bellinger
Mookie Betts
Freddie Freeman
Jake Lamb
Gavin Lux
Max Muncy
AJ Pollock
Will Smith
Chris Taylor
Justin Turner
Trea Turner
The final spot is where it gets real tricky. Does a team really need to carry 15 pitchers? If so, expect to see Mitch White or Caleb Ferguson. If the club opts for 14 pitchers and 14 position players, Edwin Rios or Kevin Pillar will be added to the bench.
What are your thoughts on this roster? Drop your 28 man roster in the comments below.