Dodgers fans got their first look at a situation where the game was on the line and the outfield clock came into play. Thankfully, it wasn't something stupid like an at-bat ending on an infraction, but in the eyes of shortstop Miguel Rojas, it changed the complexion of the game.
With two on and two out in the bottom of the eighth inning — the Dodgers' best scoring opportunity of the night, Rojas said he felt the rush of the moment. As in it was a bit too fast.
"The pitch clock is hard, especially these games (like) that situation in the eighth inning, I feel like I need a little bit more of time there to be honest with you. It's gonna be an adjustment for everybody. Games are gonna start to get a little bit more intense and you're gonna get situations where you're probably going to need a little bit more time, but it is what it is…It's (for) routines we have. Breathing, keeping yourself collected."

Via Fabian Ardaya
It's going to be an area of focus for Major League Baseball over the next few days and weeks. Games that let the pitch clock dictate the natural storytelling of the game. Going off of what Dave Roberts said recently on the clock and the moments, hitters are the ones that seem like they'll be most affected.
"In my opinion, it's hitters who slowed the pace of play. In those bigger moments, they want to slow things down, control the tempo, their heartbeat, and that's why the game comes to a standstill. But you're not going to have that luxury anymore."

Via LA Times
Did the clock cost Miguel Rojas? It's hard to tell. He still made contact with the pitch, missing a clutch base hit by a few feet or even degrees of launch angle at most.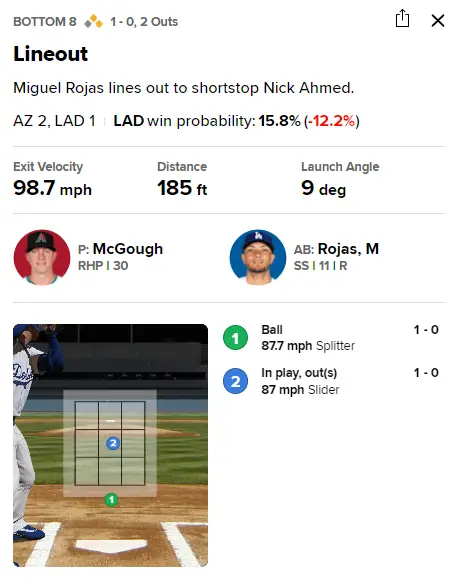 Miggy will get his shot at redemption tonight against the D-Backs at 6:10 PM. Clayton Kershaw faces old friend Madson Bumgarner for a throwback showdown.
Looking for more Dodgers News? Subscribe to our YouTube Channel! Subscribe and hit that notification bell to stay up to date on all the latest news, updates, rumors, interviews, live streams, and more!