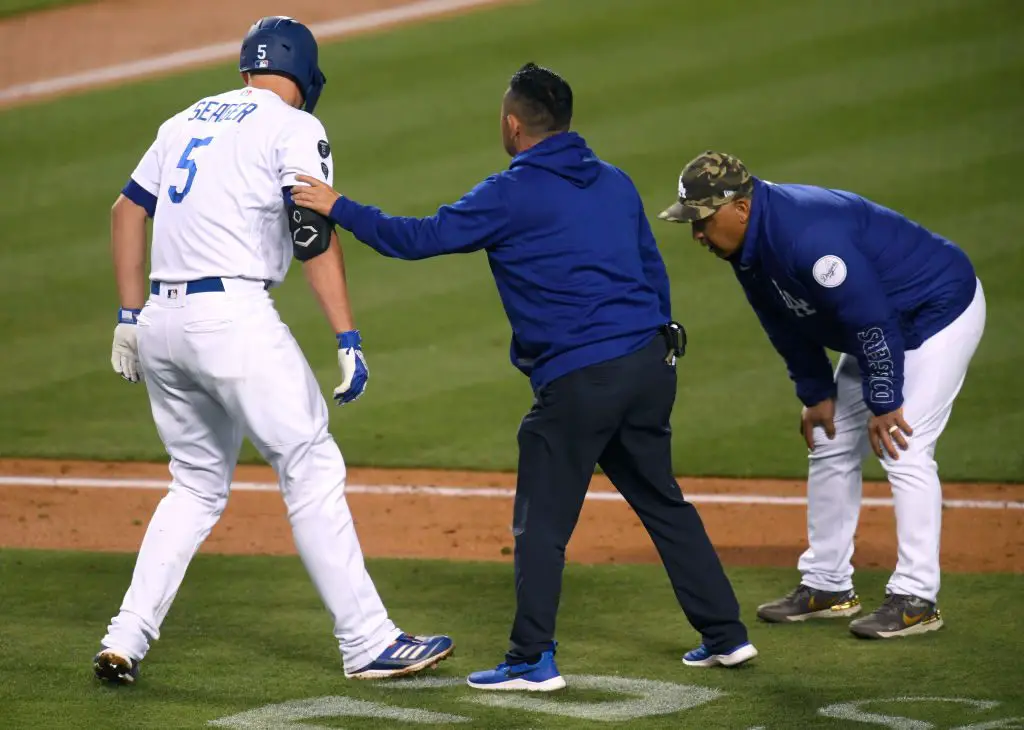 Dodgers Team News
Dodgers: Corey Seager Headed to Injured List After Hit by Pitch Against Miami
The Dodgers just can't catch a break this year. Just as some of their injured stars are nearing a return to action, another important piece goes down. This time it was Corey Seager, who took a nasty pitch off of his hand in Saturday night's game against the Marlins.
You could tell right away that Seager was in pain, and he came out of the game shortly after. After the game, Dave Roberts fielded questions regarding his shortstop's health, but he didn't have much to offer. Still, it sounded like a potential IL stint for the Dodgers' slugger.
He's in some pain, as expected. We're going to run some tests and figure out the extent of the injury, but talking to him and seeing the hand, there was already swelling. So, we'll know more after the test.
Shortly after these comments, the Dodgers announced the results of Corey Seager's x-rays. And as expected, they weren't great.
Corey Seager had x-rays tonight that revealed a fracture in his right hand.

— Los Angeles Dodgers (@Dodgers) May 16, 2021
There is no timetable yet for when the team can expect Seager to return, but it will likely be a lengthy stint since the fracture is in his hand. The question now becomes who will take the roster spot left behind by Seager. With the Dodgers pulling off a trade for Japanese slugger Yoshitomo Tsutsugo during the game, it seemed as though he could be the replacement on the 26-man roster. But while he could potentially join the team in the near future, it won't be the corresponding move, according to Roberts.
"I don't think he'll be with us tomorrow," Roberts said in regards to Yoshitomo Tsutsugo. "I think the only move we'll make is for Corey and it won't be [Tsutsugo]. I don't know much more than that, so I'll talk to our guys and figure out when he does come."
There is no replicating what a player of Corey's caliber can do on the field, and it will have to be a team effort if they wish to keep this winning streak going. The Dodgers have dealt with their share of injuries this season, so they know what to expect without Seager in the lineup.
Reinforcements are on the way, as both Cody Bellinger and Zach McKinstry are set to begin their rehab assignments in anticipation of being activated in the near future. The only question left is who takes the starting job at short?
NEXT: Dodgers Hoping to Send Cody Bellinger on a Rehab Assignment Next Week