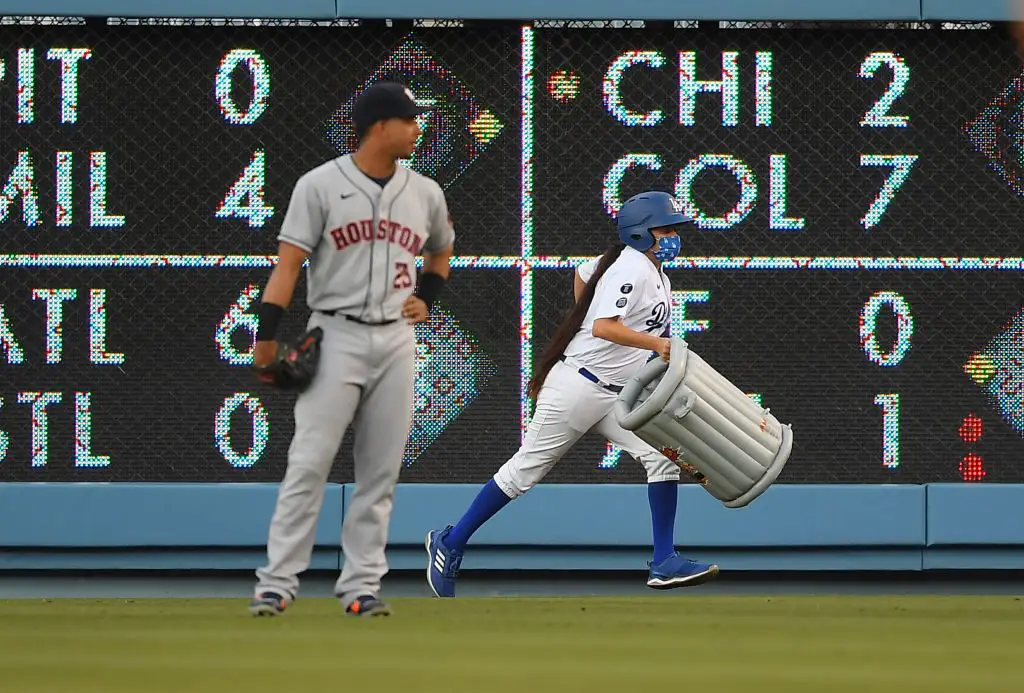 Dodgers Team News
Dodgers: Did Fans Throwing Stuff on the Field Mess With Walker Buehler?
The Dodgers and Astros' first game in front of fans in LA since the cheating scandal broke was everything we expected. Fans packed out Chavez Ravine and let Houston players from the 2017 team let them know exactly how they felt. 
For most of the game, Dodgers fans took every opportunity to get into the heads of Astros players. It didn't really work though since they walked away with the shutout win. But that didn't stop fans from throwing back foul balls hit by Houston players, tossing blow-up garbage cans onto the field, and stopping play far more than what we're used to seeing. 
Walker Buehler labored to 113 pitches through 6 innings of work in an unusually inefficient outing. But that didn't stop the Dodgers hurler from holding the Astros to 1 run. After the game, i asked Will Smith if he thought that the constant stoppages can mess with a pitcher trying to find his rhythm. 
Yeah. I mean it was definitely hard to get Walker in a rhythm, with so many timeouts and clearing the field of debris and stuff. But yeah, it seems like every foul ball there was a ball coming back on the field and Walker had to deal with it.  I thought he did a really good job of not letting that annoy him too much. But that does affect the game and makes it hard for a pitcher to get in a rhythm. 
Dave Roberts initially said that he was impressed that the distractions did not change Buehler's performance. He followed that up by saying that the things being thrown out onto the field were untimely. The Dodgers pitcher certainly looked as though he wasn't happy with play stopping when he was on the mound, and rightfully so. 
So while Buehler did get it together and pitch a very good game on Tuesday, pauses in the game certainly didn't help. Don't expect much different on Wednesday though, as Dodgers fans that didn't get their chance to boo on Tuesday are sure to fill the seats. 
Stay safe out there! 
Dodgers: Max Scherzer Talks About Joining a Talented LA Team, Hugging Albert Pujols