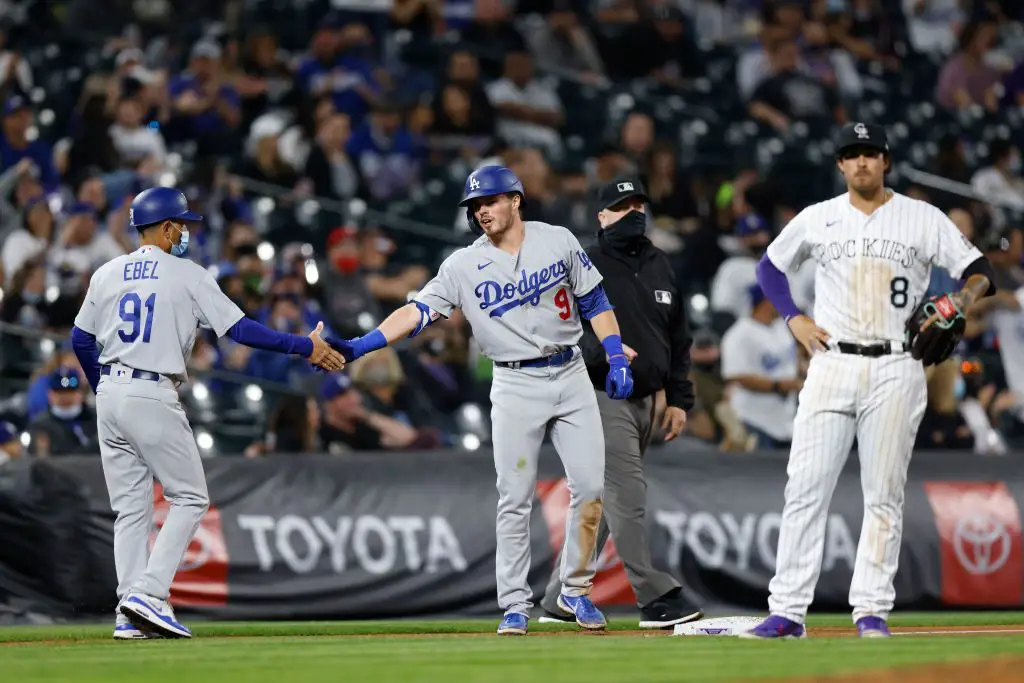 Dodgers Team News
Dodgers: Gavin Lux Does it All in Win, Earns Rave Reviews from Dave Roberts
The Dodgers finally found their way into the win column on Friday night, as they beat the Rockies 11-6 in another wacky Coors Field-esque game.
While the story of the night was Trevor Bauer's near no-no, something that can't go underlooked is the impact that second baseman Gavin Lux had on the ballgame as a whole.
Dave Roberts has been singing Lux's praises all offseason, and as the games begin to count, the Dodgers' skipper is seeing a lot of growth in his game. Before the game, LA's field reporter Kirsten Watson asked Gavin what the praise from his manager means to him.
It does mean a lot, especially coming from your manager and somebody you respect a lot. So to hear that coming from Dave [Roberts], it definitely meant something to me and it's a confidence booster. Anytime your manager says something like that, it definitely holds more weight than maybe someone else saying it.
The boost of confidence definitely showed last night, as Gavin Lux had his fingerprints all over the team's first win of the season.
The defensive display began all the way back in the first inning on this incredible robbery of Trevor Story.
Gavin Lux flashing the leather to rob Trevor Story. pic.twitter.com/kkqEjAXtgf

— Chad Moriyama (@ChadMoriyama) April 3, 2021
Lux was also able to get it done with the bat, which included the triple below that made it 8-0 in the fifth inning.
Gavin Lux triples a run home as the Rockies outfield covers itself in glory. pic.twitter.com/TbaKTWNlwI

— Chad Moriyama (@ChadMoriyama) April 3, 2021
After the game, Dave Roberts was once again asked for his thoughts on Lux and his performance.
Gavin's been in a good place all spring, and he's continued [to be]. It's really good to see him off to a good start on both sides of the ball. Tonight, for me, what really stood out is that leg single. I just really love the way he got down the line and started an inning for us.
The single that Roberts mentioned occurred in the 4th inning of the game, which ended up being a 3-run frame for the Dodgers. Without that single, Trevor Bauer would have no reason to sacrifice and there would be two outs before you know it. Having the 8-hitter get on base when leading off an inning is huge, and seeing the confidence beginning to grow within Lux to do those things is a welcome sight for the team and for fans as a whole.
Final Thoughts
Lux ended the night going 2 for 5 with an RBI and a run scored, a worthy follow-up to his 2 for 4 performance the day before.
Last season was a bit rough on the young infielder, but there is plenty of untapped potential to be discovered still. The season may be all of two days old, but it's a welcome sight to see Gavin Lux performing at the level many expected when he was the game's number one prospect. If he can continue to produce some timely hits along with the flashes of defensive brilliance, this Dodger team will be even better than expected.
NEXT: Cody Bellinger Has Big Plans for His World Series Ring