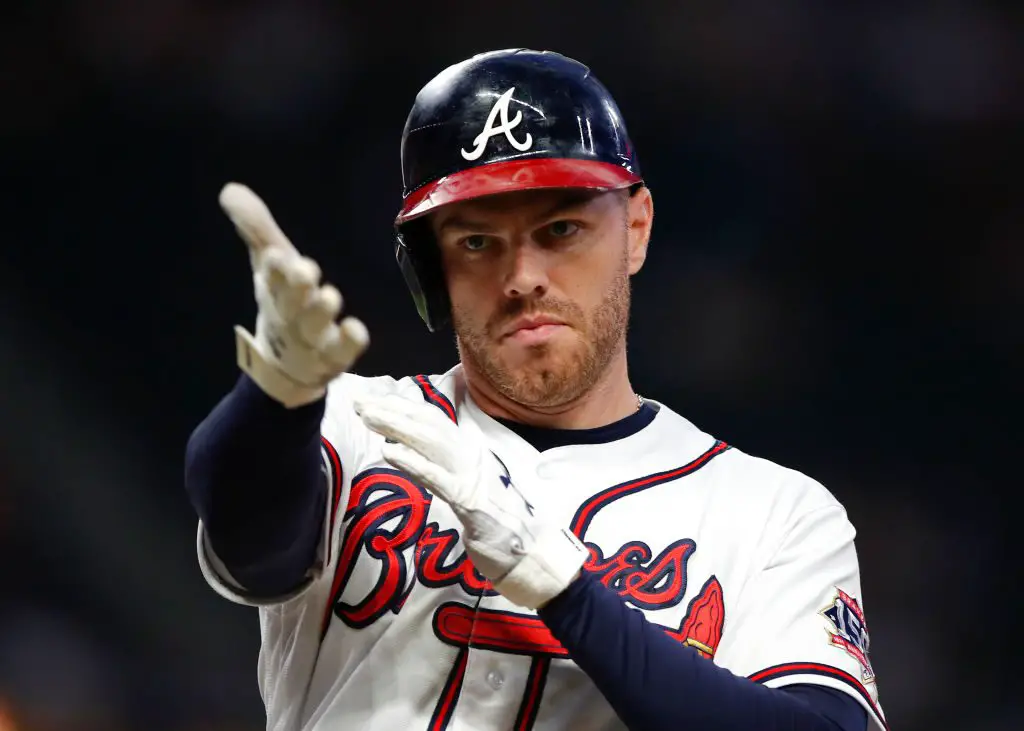 Dodgers Team News
Dodgers Insider Confirms LA is Engaged in Talks with Freddie Freeman
It's not often that you can lose one of the top hitting position players in baseball in an offseason and still have an opportunity to come out on top. However, that's where the Dodgers find themselves this winter. 
Corey Seager is gone. The shortstop signed a massive 10-year, $325 million deal to join the Texas Rangers. But the hot stove rumor mill is already working on a replacement for LA. The Athletic's Ken Rosenthal, among others, have linked the Dodgers to free agent first baseman Freddie Freeman in recent weeks. And those rumors have heated up since Seager took the money and ran.
Yesterday, Jon Heyman reported that the Dodgers "may have the best hope" in luring the Orange County native out of Atlanta. But AM570 host Dave Vassegh took it a bit further, revealing that Dodger players are pushing hard for Freeman in the post-Seager era.
"The one thing that has occurred since Corey Seager has agreed to sign with the Texas Rangers. The Dodgers have now pivoted toward Orange County's own Freddie Freeman. … I had Dodger players immediately — I had three different Dodger players of significance text me after Seager's news was announced, 'Freddie Freeman. Freddie Freeman. Freddie Freeman.'"
Of course, it's a fairly normal thing to have players want their team to sign one of the best free agents on the open market after losing a top player. But, according to Vassegh, there are more teeth to this than just hope.
"They are engaged in talks right now. And what makes this all the more interesting is, Freddie Freeman, from my understanding, talking to people close to him, he has grown very impatient with the Atlanta Braves. Because the Atlanta Braves were taking the strategy of wait and see where the market goes before offering him a contract. So, to my knowledge, the Braves have not offered Freddie Freeman any sort of contract which has made him grow very impatient. And, when a door closes, there's another one that opens and Andrew Friedman usually steps right through it.
Related: Dodgers in on Freddie Freeman, Kershaw to Rangers Could Happen, CT3 Update, Luis Castillo Available!
Freeman would allow the Dodgers to get creative and possibly move Max Muncy from first base to second base and sign Freeman to play first while Trea Turner takes over at shortstop. The 32-year-old has been one of the top sluggers in baseball since he made his debut back in 2010. Moreover, he has as good of a bat or better than Seager and — the big kicker — he stays healthy and on the field more often than not. Freeman has played in 147 games or more in 8 of his 11 full MLB seasons (one of which was the shortened 60 game season).
Word is Freeman had been seeking about $180M for 6 years. Seems reasonable to me. If that's it, Braves should just pay him.

— Jon Heyman (@JonHeyman) November 30, 2021
If the Dodgers pulled off a heist to acquire the 2020 NL MVP, they would almost certainly return to being World Series favorites in 2022. And if he's only asking for $180 million over 6 years, the Dodgers should chip in a couple more and get the deal done already.
NEXT: Dodgers Close to Re-Signing Chris Taylor to a Deal