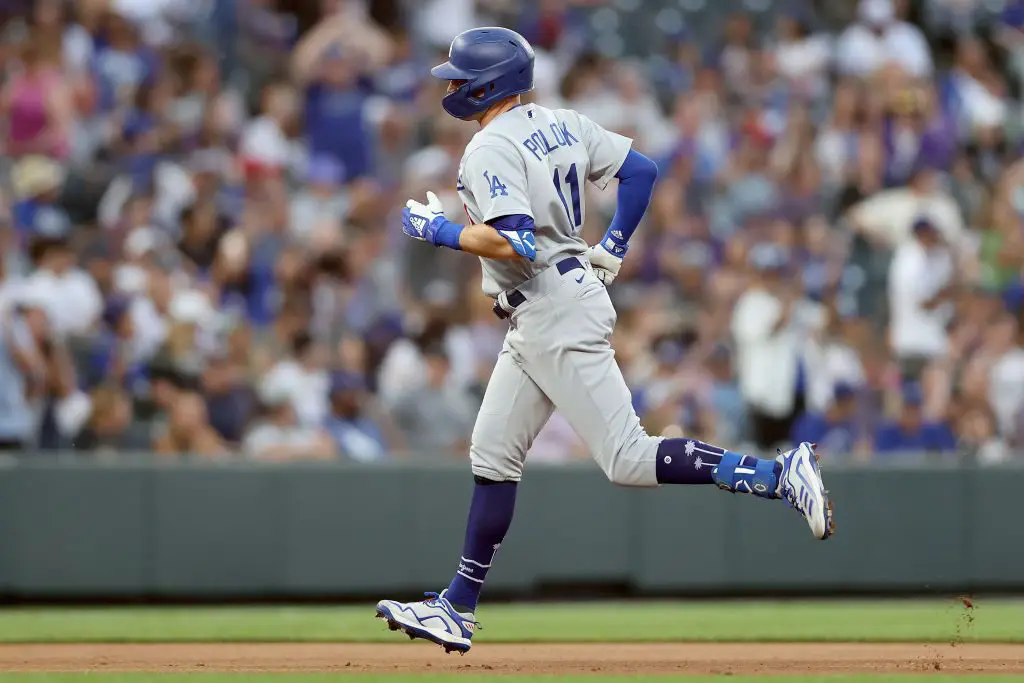 Dodgers outfielder AJ Pollock had his finest season with LA in 2021. Pollock recorded his highest wRC+ (137) and OPS (.892) in Dodger blue last year. His 117 games played were his highest total since 2015. There's been some speculation that the Dodgers could trade Pollock for a much needed veteran starting pitcher.
However, The Athletic's Fabian Ardaya believes Pollock will finish his five-year deal with the Dodgers, but there's a catch.
"The advent of a universal DH would give Los Angeles more opportunities to get him off his feet and keep him healthy after some hamstring issues in 2022. If that happens, I wouldn't be surprised if Pollock does indeed exercise that 2023 option, particularly since a second payday wouldn't be a lock entering his age-35 season."
As Ardaya eludes to, Pollock has a $10M player option for 2023. There's also a $5M buyout, meaning, if Pollo does walk, LA will cut a check for a cool five million. No big deal. See ya later. Don't spend it all in once place. 
Last season, Pollock was well worth the $18M the Dodgers paid him. Among left fielders with at least 400 plate appearances, Pollo ranked fifth in wRC+ (137), ninth in WAR (3.0), and fourth in OPS. In fact, the 34-year-old produced an OPS over 1.000 in three separate months in 2021.
The biggest variable for Pollock's future in LA, besides a potential trade, is his health.
If Pollo can stay healthy and continue to add depth to the lineup, it's not a stretch that he'll be a Dodger beyond the 2022 season.
Have you subscribed to our YouTube Channel yet? Subscribe and hit that notification bell to stay up to date on all the latest Dodgers news, rumors, interviews, live streams, and more!
Dodgers: Dave Roberts Struggling with Communication Blackout