Dodgers pitcher Clayton Kershaw made a successful return — although the "successful" part didn't really start until the second inning — but some key hits by the Mets and questionable defense by Los Angeles allowed New York to secure a 5-3 win, giving them the series win and the season series win.
Kershaw threw 25 pitches in the first inning, only 10 of them for strikes, walking three batters in an inning for the first time since 2013. His one run allowed in the game came on a bases-loaded walk in that first inning, but Kershaw settled down to retire the last 13 batters he faced.
For the day, Kershaw threw five innings, allowing the one run on one hit and three walks with six strikeouts. His ERA for the season is down to 2.59 in 16 starts.
"There's really no simulation for a big league game, so I just needed an inning." Clayton Kershaw joins @kirsten_watson to discuss his return to the mound. pic.twitter.com/KzeRADBIkt

— SportsNet LA (@SportsNetLA) September 1, 2022
Weird baserunning play
In the top of the second inning, the Dodgers had the bases loaded and one out for Chris Taylor. Taylor hit a ball to right-center that dropped in for a single. Gavin Lux had to hold up a bit from second base to make sure the ball wasn't caught, while Trayce Thompson from first base had a quicker read and knew it was going to drop. This resulted in Lux and Thompson only being about 50 feet apart on the bases.
Third-base coach Dino Ebel waved Lux around third base, but Thompson was so close that he thought the wave was also for him. In the end, Lux scored easily, but Thompson was thrown out by 15 feet at the plate.
The Dodgers third base coach was waving home Gavin Lux and Trayce Thompson thought the sign was for him too pic.twitter.com/IJzLAPkNQ9

— Talkin' Baseball (@TalkinBaseball_) September 1, 2022
Mookie Betts grounded out to end the inning, but there's no way to know what would have happened if not for the weird miscommunication.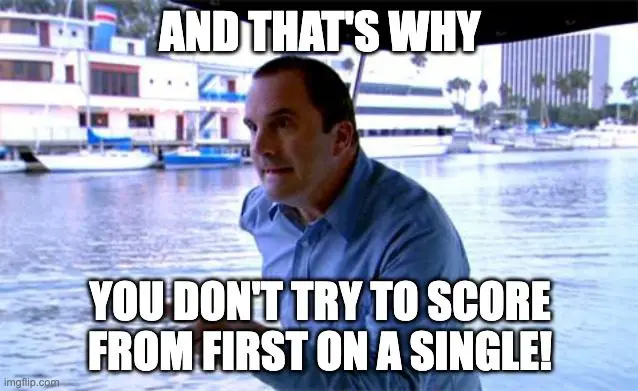 Lux's makes a couple costly defensive blunders
In the bottom of the sixth inning, Starling Marte led off with a routine groundball to second base. Lux fielded the ball cleanly and made an accurate throw to first, but Marte beat it out for an infield single.
What a play by Gavin Lux! pic.twitter.com/aq7IIhZekw

— MLB Errors (@mlberrors) September 1, 2022
Marte should have been out. If Lux had charged the ball even a little, it would have been an easy out. Instead, Marte was on first, scoring on a double by Francisco Lindor, who later scored on a sacrifice fly that should have been the third out. Both runs go down as earned against reliever Chris Martin, but neither should have scored.
The next inning, a two-out popup dropped between Lux and Betts, with Lux giving up on it way too soon and Mookie unable to charge in and make the play.
Ouch.

Miscommunication between Dodgers' Gavin Lux and Mookie Betts leads to a Mets run with 2 outs ?

The Mets would add on another later in the inning.
(via @SNYtv) pic.twitter.com/3IqL861bJv

— FOX Sports: MLB (@MLBONFOX) September 1, 2022
James McCann scored on the "double" by Brandon Nimmo, who then scored on a single by Marte. It was the second consecutive inning that two "earned" runs shouldn't have scored.
Gavin Lux was in the middle of two of the misplays

On the grounder in the sixth, he said he just didn't make the play fast enough

On the pop up w/ him and Mookie Betts in the seventh, he said there was miscommunication & that neither called for it: "It's a ball I gotta catch."

— Jack Harris (@Jack_A_Harris) September 2, 2022
Up next
After losing a series for the first time since July 27, the Dodgers head home to face the Padres in a three-game series. The Padres currently hold a 2.5-game lead over the Brewers for the third and final Wild Card spot in the National League.