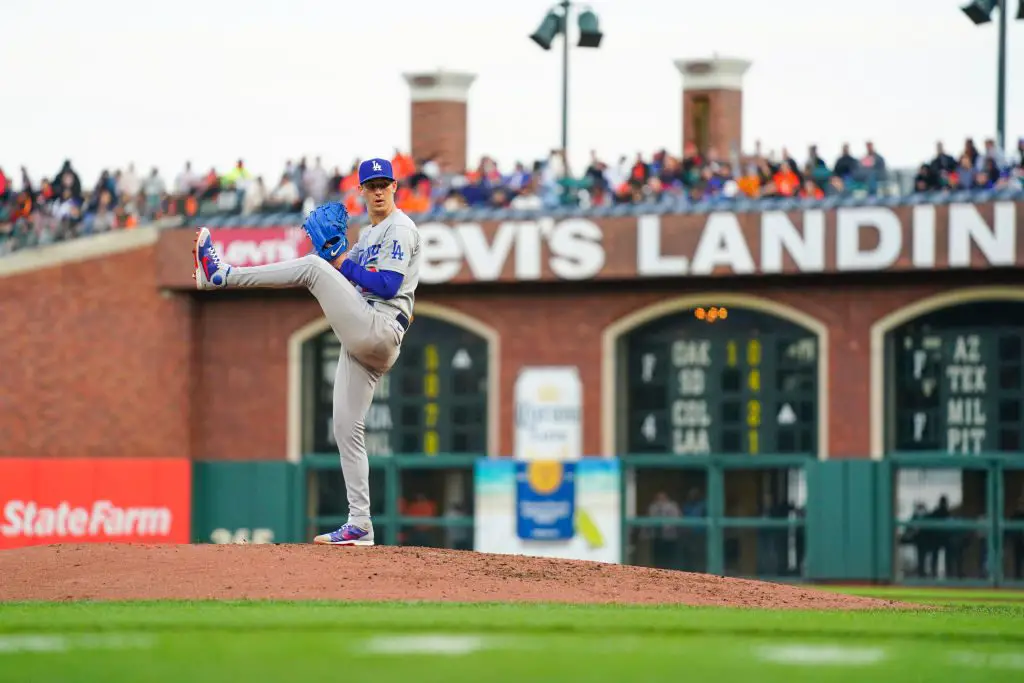 Editorials
Dodgers vs Giants Series Preview: The Time is now to Twist the Knife
Finally, the Giants came back down to earth – at least somewhat. Despite San Francisco posting an excellent 19-9 record in August, it was their sputtering finish to the month that allowed the rival Dodgers the opportunity to do something they hadn't since April: overtaking their rivals for the division lead.
While the Giants were losing the first three games of their series with the first-place Milwaukee Brewers, the Dodgers seemed to find their late game mojo against a previously red-hot Braves team. It wasn't just a turning point in the standings for the Dodgers, but seemingly a turning point in close game performance as well – trailing late in the game on both Tuesday and Wednesday, the Dodgers would rally for unlikely wins despite taking on a Braves bullpen that had been pitching well.
As the Dodgers head on the road to the Bay Area this weekend, they do so tied in the standings after San Francisco's Thursday win while the Dodgers were idle. Despite their evenness in the standings, the tenor in each clubhouse couldn't be more different. In San Francisco, the steady din of Dodgers' footsteps behind them have become deafening – while Oracle Park will try to stomp out the noise with "Beat LA" chants all weekend, the feeling of doom among Giants' faithful is stronger than it's been all season.
After all, San Francisco wasn't supposed to be here. With oddsmakers at BetMGM setting their season win total at 75.5, expectations were for a modest step forward that would still leave Giants well below .500. The Giants have instead bludgeoned their way to the top of the standings, hitting the most home runs in the league (201) despite playing at a notoriously pitcher-friendly ballpark. They've revitalized veteran careers and gotten the most out of young players. They've seen starting pitchers on one-year deals produce career seasons the likes of which the team couldn't have ever seen coming.
The question of regression has loomed over their heads all season – they've got to come back to earth at some point, right? Right?!
While I don't think it's safe to say that losing 3 of 4 to a good Milwaukee team qualifies as expected regression, panic is beginning to set in with San Francisco as the Dodgers come to town. The Dodgers boast a lineup as healthy as it's been all season and enter the series in San Francisco having gone 22-6 since August 1. If the Giants are leaking gasoline, the Dodgers are flying north with matches – and if trends continue, they'll be leaving town with flames in their wake.
Friday, September 3
6:45 pm PT
David Price (4-2, 3.88 ERA) vs Anthony DeSclafani (11-6, 3.38 ERA)
Friday's series opener from Oracle Park will mark the 6th time the Dodgers have faced DeSclafani – the most times they've faced any starting pitcher this season. It's been a very solid season for the righty, and the first double-digit win campaign of his now 7-year career. After posting excellent numbers early in the season, DeSclafani has struggled of late – in August, his 5.93 ERA was his worst of any month this season. He hasn't managed to pitch beyond 5 innings once in his previous 5 starts, a cold stretch that started with an ugly 2.2 inning outing against the Dodgers on July 28.
DeSclafani has struggled with the Dodgers all season. His 5 starts against Los Angeles are the most he's made against any opponent since joining the Giants, and his 9.43 ERA over 21 innings of work is his worst against any of the 14 teams he's pitched against this season. He's been even worse when taking on the Dodgers at Oracle Park – in two starts by the Bay, he's managed to complete only 5.1 innings of work while allowing a whopping 14 earned runs to the Dodger offense.
Hoping to take advantage of plenty of run support for Los Angeles will be David Price, who has recently struggled to give the Dodgers much length as a starting pitcher. Despite making 6 starts in August, David Price was only involved in one decision (a loss on August 22) and has pitched into the 6th inning only once. His last start in San Francisco was a particularly frustrating outing – the 4 runs he'd allow in 4.1 innings of work were the most he's given up in any outing this season. Before that start, Price had thrown 3.2 innings of scoreless relief against the Giants.
The Dodgers bring a rested bullpen on the road trip after an off day Thursday, so they'll have plenty in the tank to back Price up should he struggle early on.
Saturday, September 4
6:05 pm PT
Julio Urias (15-3, 3.17 ERA) vs TBD (Bullpen?)
One of the recent issues plaguing the Giants has been a sudden decline in the health of their pitching staff. After staying relatively unscathed through the early part of this season, San Francisco is now without both Alex Wood and Johnny Cueto heading into the most important month of their 2021. As such, it seems likely that the Giants will look to pitchers like Sammy Long and Jose Quintana to potentially provide length out of the bullpen on Saturday and Sunday – not exactly an ideal scenario for a team trying to put out the flames rising around them.
The Dodgers will send Julio Urias to pitch Saturday, leading the league with his 15 wins entering this weekend. Urias is coming off the best month of his career, an August that saw him go 3-0 with a 1.38 ERA despite facing some strong lineups from the Angels, Mets, Padres, and Braves. He's faced San Francisco 4 times this season, 3 of which have been very solid starts. In late July, his back to back starts against 'Frisco saw him throw 12.2 combined innings while only allowing 2 runs.
Taking on a battered pitching staff, the Dodgers ought to seize the opportunity to back their left-hander early – ideally, this would allow Urias to pitch deep into a game once again.
Sunday, September 5
4:08 pm PT
Walker Buehler (13-2, 2.05 ERA) vs TBD (Bullpen?)
The story Sunday is the same as it is Saturday for San Francisco, as of now. We'll have to wait and see what roster moves are made, but the expectation is that both games will see the Giants turn to Johnny Wholestaff in search of wins.
Good luck with that against Walker F. Buehler. At this point, the National League Cy Young is his to lose – and given the weight of this weekend's series in the Bay, you'd be hard pressed to find a pitcher on earth I'd rather have on the bump Sunday night than Buehler. Remarkably, August was the third consecutive month that the right-hander completed with an ERA under 2.00, and he's probably 1-2 more starts on his current pace away from his season ERA eclipsing that number as well.
Buehler has really matured as a Major League starter in now his fifth season of action at this level. The talent has never been in question, but the young righty who at one point would try to blow fastballs by every hitter he faced has blossomed into a fully formed, multi-faceted pitcher capable of dialing up the same results in regular season outings as he has in postseasons past. If Buehler gives the Dodgers what he's been giving them all season, they'll have a great opportunity to finish a critical series on a high note on Sunday Night Baseball.
With a full month still to play, this series in San Francisco is only one of several crucial series left on the Dodgers' schedule. It's the only series left that allows Los Angeles to control both sides of the divisional narrative, though – and given the trend we've seen from each side this week, I like the Dodgers' chances of delivering a gut punch to the hated Giants this weekend.
NEXT: MLB Proposes Massive Changes to Current Arbitration and Service Time System