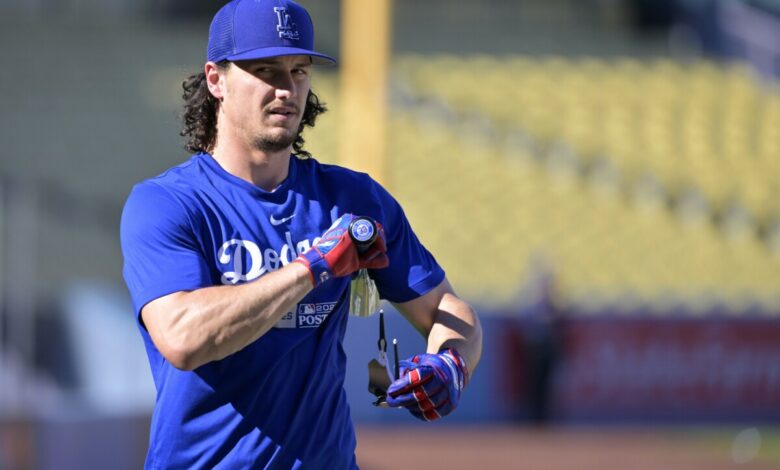 Dodgers Team News
Dodgers News: James Outman Breaks Silence Online Following Early NLDS Exit
The 2023 season for the Dodgers was supposed to be seen as more of a transition year for the franchise. After a lackluster offseason, LA was expected to take a step back from their normal regular season domination, but somehow, they found a way to still win 100 games.
The team decided to go with a youth movement for this season, as they wanted to see what they had in some of their young guys from the farm system. It was a chance to give opportunities to these guys while letting LA see if any of the players were worth keeping around.
One of the more impactful members of the team this year was rookie outfielder James Outman, and he showed LA that he could be their center fielder moving forward. It was a pleasant surprise when he put together a strong Spring Training and then earned a spot on the Opening Day starting lineup.
He looked good throughout the majority of the season for the Dodgers. But did have a period of time where he was in a slump, but for a rookie, that can be normal.
Outman recently took to social media to thank the fans for the season and to reflect on his first career season in the MLB. Like so many other LA players, it was nice to see the message from him.
For the year, Outman hit .248 with 23 home runs and 73 runs batted in. It was a very good first year for the rookie, and he had to fight through adversity to get better as the year progressed.
Outman spoke about how multiple veterans on the LA roster helped him during the year, and it showed in his production. He got better on defense throughout the year as well and was praised by manager Dave Roberts at different times.
He won't win the Rookie of the Year Award but could receive some votes for it. It was a great first season for the outfielder, and year two feels like it will be even better for him.
Photo Credit: Jayne Kamin-Oncea-USA TODAY Sports
Have you subscribed to our YouTube Channel yet? Subscribe and hit that notification bell to stay up to date on all the latest Dodgers news, rumors, interviews, live streams, and more!