A year ago today, Julio Urias threw a 97 MPH fastball to Willy Adames on an 0-2 count, and the Dodgers won the 2020 World Series. Dodger fans at home sat on pins and needles, cheering on Urias and hoping that the 32-year drought would finally end. Watch it here, it's worth it.
The Memories
I remember watching that moment. Thankfully my wife has a video of it. I hooted and hollered with my daughter, and after a few minutes, I could not help but think of Vin Scully, after Kirk Gibson hit that legendary home run off of Dennis Eckersley. Scully said, "in a year so improbably, the impossible has happened!" I took to Twitter and paraphrased the GOAT himself.
In a year so intolerable, the phenomenal has happened!

THE DODGERS ARE THE 2020 CHAMPIONS!!!

— AJ Gonzalez?? (@AJontheguitar) October 28, 2020
It's a little extra, but it just felt right. 2020 was a very tough year. The COVID-19 pandemic changed everything. Insert your favorite platitude here, but we all know it changed everything. Kobe Bryant, Gigi, and seven others perished in January. To say that "The Lakers and Dodgers won" in 2020 for Kobe and Gigi may feel heavy-handed, but it is hard to deny its poetry and resonance.
If you looked around at the time for the numerical connections, they were everywhere.
Lakers just won their 17th championship

Dodgers can win their 7th

17 + 7 = 24 for Kobe!?!?!?

Man …. this has to happen right? pic.twitter.com/J6DPSZ0Vrr

— Dodgers Nation (@DodgersNation) October 27, 2020
Some of these got downright absurd.
Never underestimate signs

The last time the Dodgers & Lakers each won a championship in the same year – 1988

2020 – we lost Kobe

1988 + 24 + 8 = 2020

For you Kobe…..whoa. From a friend

— Blueprint Sports (@AurandBlueprint) October 28, 2020
Los Angeles sports fans continued to celebrate the titles and pay homage to our late hero, Kobe Bryant.
After the Dodgers' World Series won, the crowds still chant for Kobe pic.twitter.com/vWPlS9dIo0

— Samuel Braslow (@SamBraslow) October 28, 2020
Our Generational Icon Finally Wins What He Deserved
After my selfish desire for a championship as a Dodger fan, the photos of Clayton Kershaw as a champion started to flood in through social media and the official Dodger channels. This was where I was overcome with emotion. Clayton Kershaw had previously never won a title despite giving the Dodgers and their fans his heart, soul, and body. Nobody had earned this title more than Kershaw, even Cody Bellinger said it to him. There was Kershaw, our champion.
In my head this song has always been about Kershaw. My favorite band, this song hits harder for me now.

(I suck at making videos but I don't care) pic.twitter.com/A2H51bkImz

— AJ Gonzalez?? (@AJontheguitar) October 29, 2020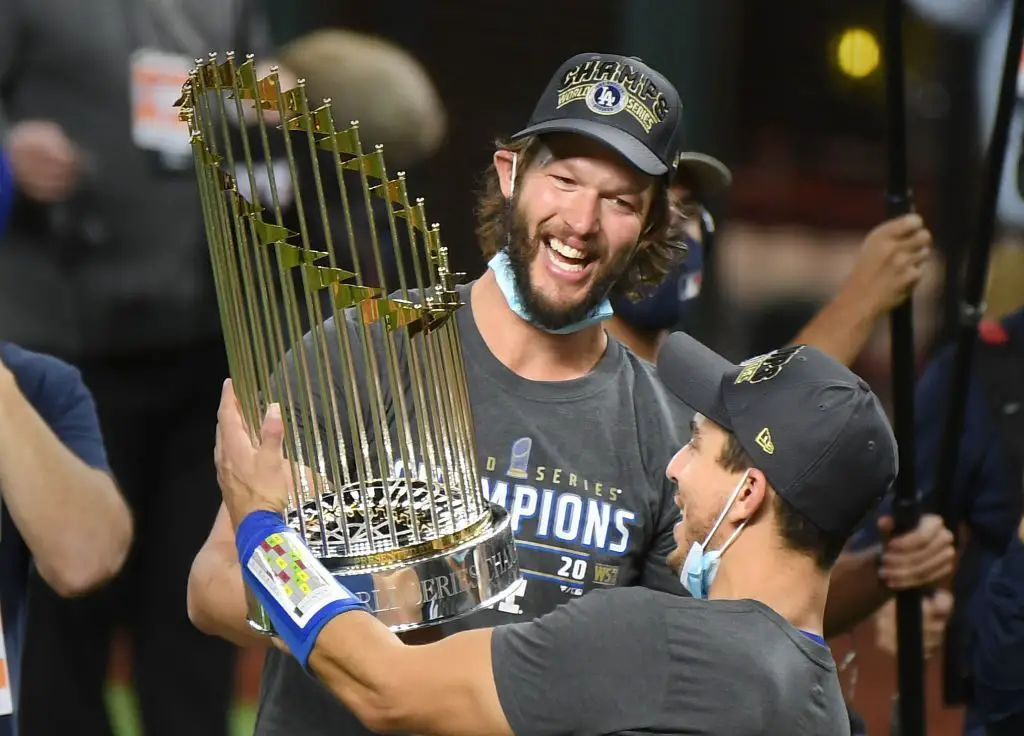 If that image doesn't fill you with joy, you're absolutely not a Dodger fan.
Final Thought
It's perfectly acceptable to be sad or upset about the Dodgers losing in the 2021 NLCS. It was a hard-fought season that feels like ended too soon. The post-mortem on this Dodgers season will take everyone a certain amount of time. With that said, Dodger fans should do their best to celebrate the 2020 World Series Champion Dodgers as much as they can. I know I do.
NEXT: Insider Feels LA Fans are Angered Over Early Postseason Exit After 2020 Short Season Title