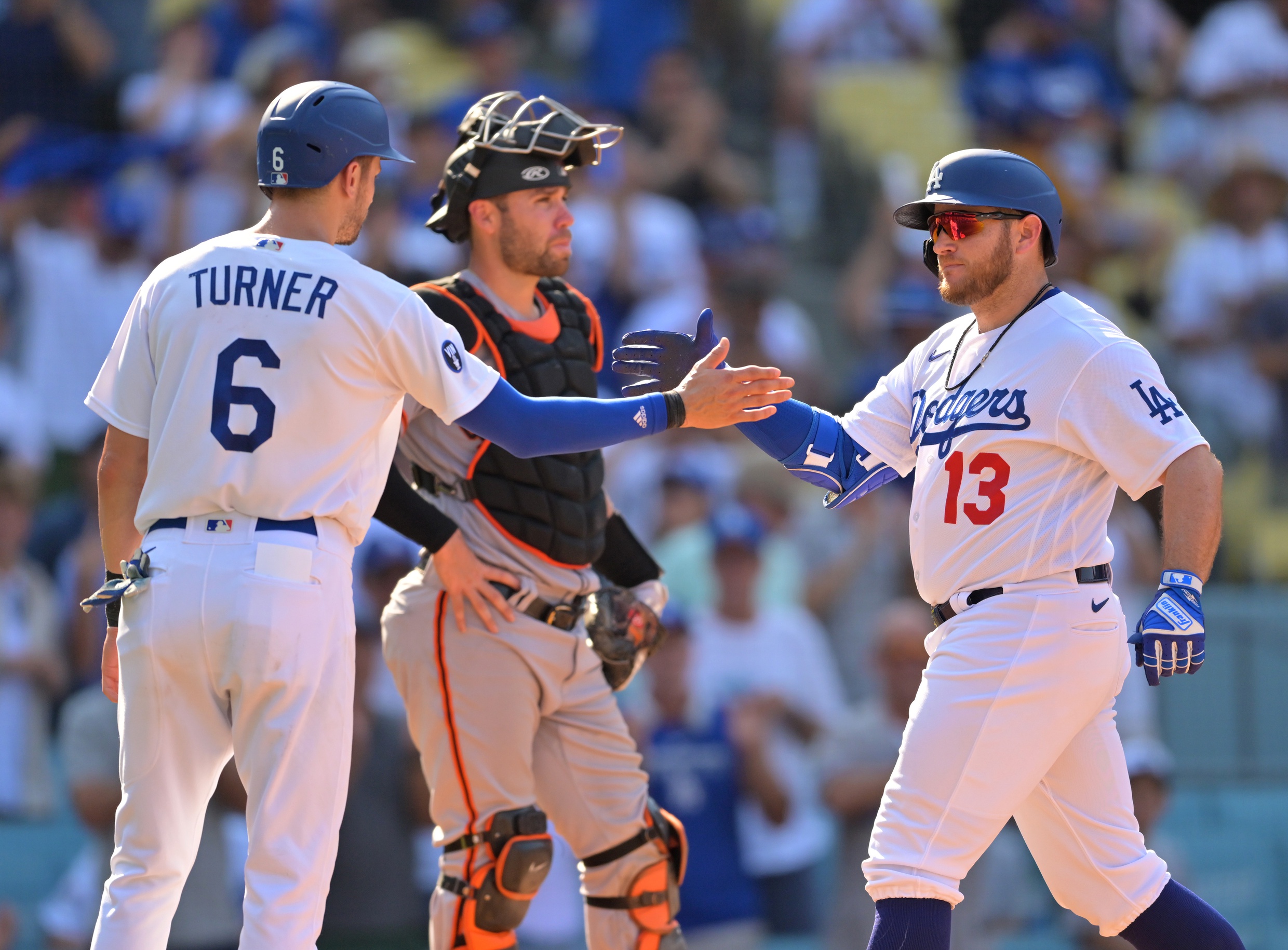 Dodgers Team News
Dodgers Highlights: L.A. Wins Series vs Giants, Clinching Number Down to 6
The Dodgers beat the Giants, 7-3, on Wednesday afternoon in a game that was quite a bit closer than the final score. With the win, Los Angeles lowers its magic number to 6 to clinch the National League West.
Clayton Kershaw went six innings, with the only blemish a two-run homer to David Villar. Evan Phillips earned the win in relief, throwing 1.1 shutout innings.
Offensively, Max Muncy and Justin Turner each had three hits and a homer, while Trea Turner had an RBI double that put the Dodgers ahead for good.
The #Dodgers took a couple of shots to the chin, but Justin Turner's and Max Muncy's counterpunches powered the team to a 7-3 win against the Giants.

?https://t.co/Xot3iutsJr pic.twitter.com/BBHsRFyARk

— Dodger Insider (@DodgerInsider) September 8, 2022
Kershaw Day went very well
Kershaw went six innings, allowing two runs on five hits with eight strikeouts and no walks. On a sweltering L.A. afternoon, Kershaw's approach was just to work quickly and throw strikes.
The star lefty was pleased with his performance, saying he only threw "three bad pitches."
"Honestly, I probably only had three bad pitches, and they were all hits, and one of them was a homer." – @ClaytonKersh22 comments after delivering another quality start in #Dodgers' 7-3 win over the Giants. pic.twitter.com/5Cw1DLQGCY

— SportsNet LA (@SportsNetLA) September 8, 2022
Kershaw got a no-decision after Justin Bruihl allowed a game-tying homer to David Villar, the same guy who had homered off Kersh. The two runs raised Kershaw's season ERA ever so slightly to 2.62.
Gallo leaves early
Joey Gallo exited the game early after taking an Alex Cobb fastball off the elbow pad in the second inning. The pad seemed to do its job, as x-rays came back negative, but Gallo said it got his funny bone and left his arm tingling, so the Dodgers removed him for precautionary reasons.
Rookie Miguel Vargas replaced Gallo in left field, going 0-for-2 with a walk.
Max and JT come through big
After slow starts this season, both Muncy and Justin Turner have really turned on the jets recently. Turner is batting about .370 since mid-June, while Muncy has raised his OPS to .714.
On Wednesday afternoon, they both came through huge. JT hit a three-run homer to turn a 2-0 deficit into a 3-2 lead.
JT for the lead! pic.twitter.com/tg6wW9uXnl

— Los Angeles Dodgers (@Dodgers) September 7, 2022
Later, with the Dodgers ahead 4-3, Muncy hit a three-run homer of his own for some much-needed insurance.
Facing SF? Max always delivers. pic.twitter.com/snIYXHTywe

— Los Angeles Dodgers (@Dodgers) September 7, 2022
JT's OPS for the season is up to .795, and Muncy's homer was his 21st against the Giants in his career.
Trea snaps his funk
Trea Turner came into the game batting just .200 over his past seven games, and he started Wednesday's game 0-for-4. He came up in the bottom of the eighth with Austin Barnes on second base representing the go-ahead run, and he ripped a line drive over Joc Pederson's head in left field.
Go ahead, Trea! pic.twitter.com/cLos8ARVKg

— Los Angeles Dodgers (@Dodgers) September 7, 2022
And because he's Trea, even a "funk" is relative, as the double extended his latest hitting streak to six games.
Up next
The Dodgers have the day off on Thursday, then start a nine-game road trip on Friday in San Diego. A sweep of the Padres would clinch the National League West for the Boys in Blue.