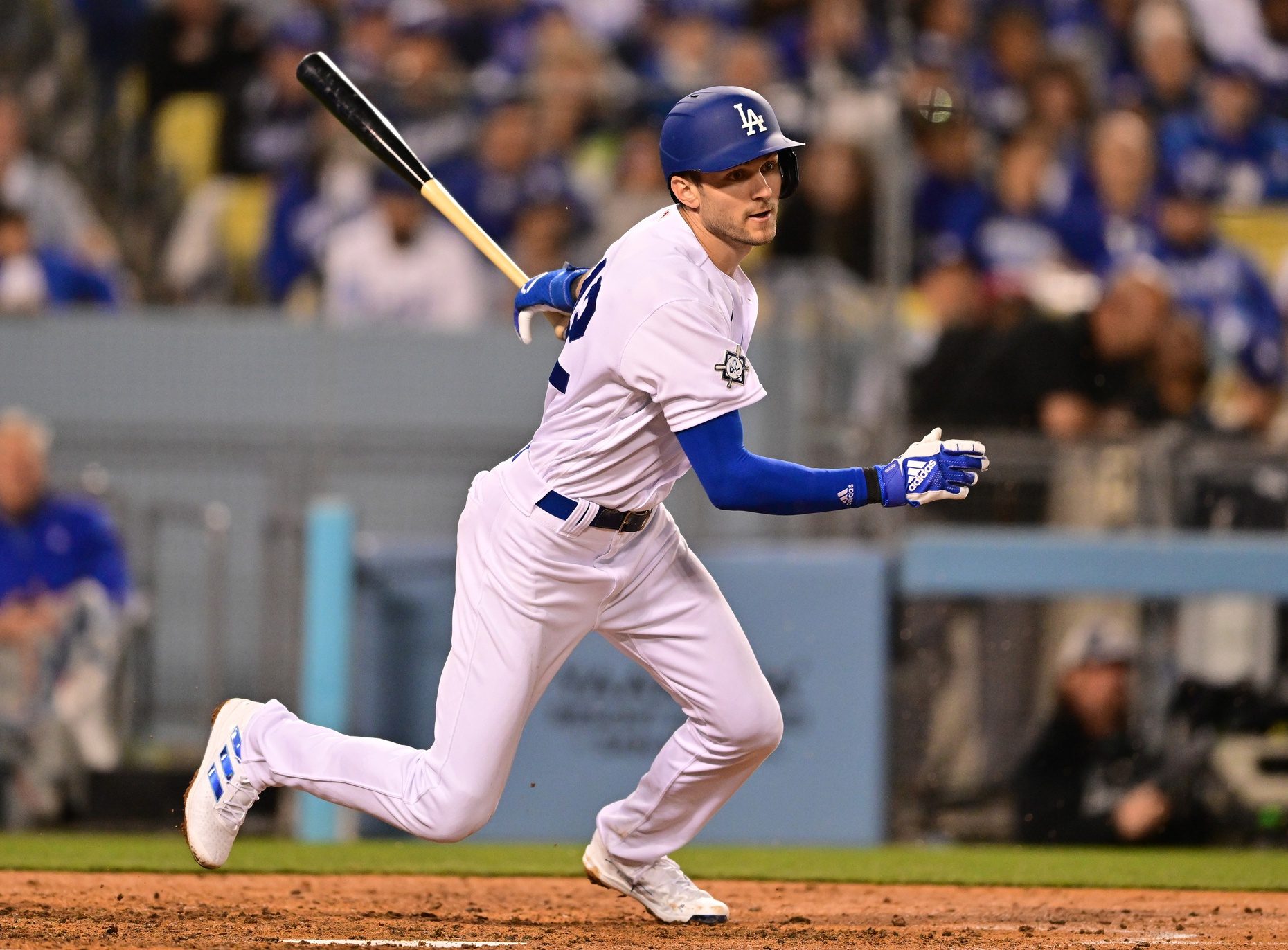 Dodgers Team News
Dodgers News: Trea Turner Cracks a Door Open for Contract Talks with LA
Trea Turner came to the Dodgers in a trade-deadline deal last year that also brought Max Scherzer. At the time, Scherzer was seen by many as the highlight of the deal, with Turner included so the Nationals could get back two of the Dodgers top prospects in Josiah Gray and Keibert Ruiz.
It's safe to say Dodger fans now think of it as the Trea Turner trade, though. Scherzer pitched well in his few months as a Dodger, but he was ultimately unable to take the ball in Game 6 of the NLCS, a game the Dodgers lost to eliminate them from the postseason. After the season, Scherzer signed a lucrative three-year contract with the Mets.
Turner, meanwhile, is still in Los Angeles and still doing Trea Turner things. He is fourth in the National League with a .305 batting average, fourth with 24 stolen bases, and fourth with 94 RBIs. Batting between Mookie Betts and Freddie Freeman, he gets plenty of opportunities to score and drive in runs, and between his speed and his .325 batting average with runners in scoring position, he's capitalized on many of those opportunities.
Turner will be a free agent after this season, and while he and the Dodgers had talked about a possible extension during spring training, they cut off those talks when the season started. As Bill Plunkett writes in the Orange County Register, Turner is starting to think a bit about the resumption of those negotiations.
"We haven't talked since then," he said. "But I'm sure we'll be talking in a few weeks."
"A few weeks" could mean a lot of different things. Turner could just be referring to whenever the Dodgers' season ends, hopefully in early November. A more literal reading of "a few weeks" might suggest some conversations in the six days between the end of the Dodgers' regular-season schedule on October 5 and their first Division Series game on October 11.
Whenever the talks come, it seems likely the Dodgers will try hard to keep Turner in L.A. In the past, there have been rumblings that Turner would only sign in free agency on the east coast, where he and his wife are both from. Turner acknowledges that he helped create that narrative, but he downplays it now.
"I originally said that so I wouldn't necessarily get traded to certain places. I was trying to control as much as I could – because a lot of it was out of my control," he said. "Yeah, I'm an East Coast guy. But with free agency, you get a chance to pick and control it as much as you can in your entire career. I'm open to anything really. Everything is in play.

"That was more for a trade and an extension in a place I didn't really know. I didn't want to get traded and then get offered an extension right away and not know anything about the city and stuff. … To me, that (decision) would be all based off money and that's not how I want to make my decision. Obviously, that's a factor but a lot more goes into it. I think it was more of that.

"Yeah, I'm from the East Coast. Would I like to go back? Sure. But I think L.A.'s been really good to me."
When Turner talks about "a lot more" going into free agency than just money, you have to like the Dodgers' chances of retaining the All-Star shortstop, who has spent over a year in the winning atmosphere of Los Angeles. Betts and Freeman are both under contract for many more years, and Turner slotting between them for the foreseeable future would be great for the Dodgers and great for Turner.
Whenever those conversations strike back up, we hope they end in a happy handshake.
Have you subscribed to our YouTube Channel yet? Subscribe and hit that notification bell to stay up to date on all the latest Dodgers news, rumors, interviews, live streams, and more!