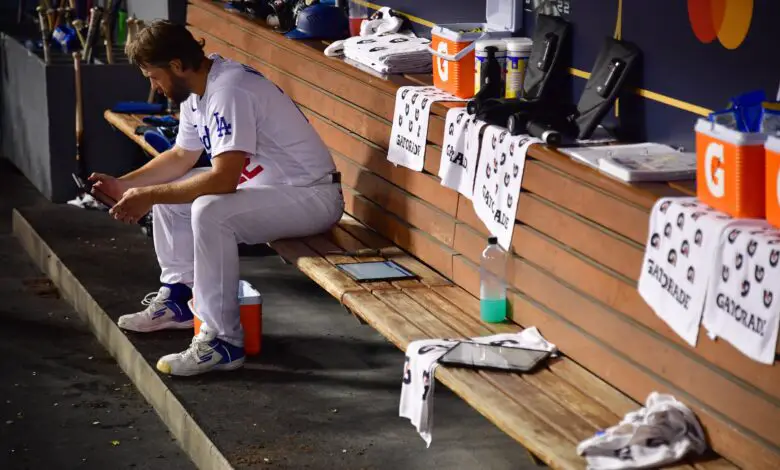 Editorials
How Does Clayton Kershaw's Injury Affect the Dodgers' Offseason Plans?
On Friday, via Instagram, Dodgers' icon Clayton Kershaw announced that he underwent surgery to repair some ligaments and the capsule in his left shoulder. He concluded the post by saying he hopes to be back playing baseball by sometime next summer.
This news, while unfortunate, does not come as a total shock to fans, but it does alter how the Dodgers plan to attack this offseason.
Dodgers Current Offseason Needs:
Extending Max Muncy on Tuesday allows for a great deal of flexibility heading into free agency. Muncy could continue to man the hot corner, slide over to 2B, or even become a full-time designated hitter. Basically, the Dodgers can address any two of those positions and he can play the third.
As of writing this article, Jayson Heyward and David Peralta are not on the roster. This means the LA's only outfielders on the roster are Mookie Betts, James Outman, and Chris Taylor. The club needs at least two more outfielders, and one of those two should bat left-handed.
The rotation, as it stands, consists of Walker Buehler, Bobby Miller, Ryan Pepiot, and possibly Emmet Sheehan and Michael Grove. Many speculated whether the Dodgers needed another ace or if they needed depth more, and now the answer is emphatically, "both."
What Does Clayton Kershaw's Surgery Change for the Dodgers?
The front office needed to address the starting rotation whether or not Kershaw would return next year. The news that Kershaw cannot make a return until the middle of summer emphasizes how much help the rotation requires.
Arguably, Michael Grove's and Emmet Sheehan's best roles would involve them coming out of the bullpen. If the Dodgers do go this route, then they only have three starting pitchers – if they do not pick up Ryan Yarbrough's option.
Bobby Miller showed flashes of why the organization is so high on him. He has an electric fastball, and, even more impressive, wicked secondary pitches. That being said, Miller turns 25 in May next year, and asking him to be the No. 2 in the rotation of a team with World Series aspirations could be asking too much.
Getting an ace-level pitcher allows Miller to slot into the third spot in the rotation with Pepiot somewhere behind him. An additional depth piece or another innings-eater gives the rotation flexibility and length. Lastly, it gives Grove and Sheehan the opportunity to make spot starts or piggyback starts to help the rotation when required.
The Bright Side of Clayton Kershaw's Injury:
Seeing the long-time ace and team icon undergo major shoulder surgery was a gut punch to the fanbase. However, a silver lining may exist in this news.
Asking Kershaw, with as much mileage on that left arm as he has, to be a frontline starter would have been asking too much of him. He pitched 131.2 innings last year, the most since 2019, and a good portion of that he did so injured.
Even if he came back healthy at the start of the season, the reasonable expectation would be for him to be the No. 3 starter in this rotation. On top of that, the club would have to monitor his innings, so that they can try and keep him healthy for the postseason.
Now that he likely will not make a return until around the All-Star break, if at all, the club will not have to worry about him in the first half of the season.
The club could keep him on ice for as long as they need to so that if, and when, he comes back he is fully healthy. Then, he uses the last half of the season to ramp up and, hopefully, head into the postseason feeling as good as he ever has.
Summary:
Basically, it boils down to this — instead of a whole season of worrying about Kershaw and handling him with kiddy gloves, the Dodgers could get two to three months of a healthy, refreshed Clayton Kershaw as they make a postseason run.
Circling back to how this affects the offseason — the only way any of this is possible, is if the organization provides enough starting pitching to take literally all the burden off Kershaw during the regular season.
Mandatory Credit: Gary A. Vasquez-USA TODAY Sports
Have you subscribed to our YouTube Channel yet? Subscribe and hit that notification bell to stay up to date on all the latest Dodgers news, rumors, interviews, live streams, and more!